Building the Barbados National Union of Fisherfolk Organisations
Maritime Studies
2017
16:19
Received: 24 May 2017
Accepted: 20 September 2017
Published: 6 December 2017
Abstract
The Barbados National Union of Fisherfolk Organisations was formed in 1999 under a fisherfolk organisation development project. The aim was for this national body in fisherfolk governance to strengthen the capacities of its local level organisation members. Its evolution from origin to the present illustrates the complexities of capacity development at organisation and individual levels. The former concerns building organisational resilience while the latter is about sustaining livelihoods. Poverty strictly in terms of income, food security and nutrition are not major issues in Barbados, but the fisheries sector lacks an effective collective voice. Hence, fishery workers report feeling less recognised and entitled than workers in other economic sectors. Poverty has evolved conceptually to also consider self-organisation and collective action, consistent with resilience thinking. These new dimensions are important in Barbados. In participatory action research comprising mostly workshops and interviews, the organisation was investigated using an integrated framework for analysing aspects of governance, livelihoods and organisational resilience. The evolution of the Barbados National Union of Fisherfolk Organisations was not linear, and it was impacted by factors favouring both its success and failure to become a resilient fisherfolk organisation. Implementing the Voluntary Guidelines for Securing Sustainable Small-Scale Fisheries in the Context of Food Security and Poverty Eradication (SSF Guidelines) is the current focus for the organisation's capacity development. Examining fisherfolk perspectives on how they will go about developing capacity for and through the SSF Guidelines provided further insight into organisational resilience. Lessons learned from this case are applicable to similar Caribbean fisherfolk organisations.
Keywords
Barbados
Capacity development
Fisherfolk
Livelihoods
Organisation
Resilience
Introduction
Strengthening organisations and collective action in small-scale fisheries (SSF) is currently receiving considerable attention from global to local levels of governance, largely as a means of implementing the Voluntary Guidelines for Securing Sustainable Small-Scale Fisheries in the Context of Food Security and Poverty Eradication (SSF Guidelines) (Kalikoski and Franz 2014). Such attention has been long advocated by scholars who saw the need for alternative directions in managing SSF (Berkes et al. 2001), and who recognised SSF as complex, adaptive, social-ecological systems that require more people-centred approaches (Mahon et al. 2008). Early reports on fisheries organisation dynamics (e.g. Meynell 1984 and 1990) and theoretical literature on conceptualising collective action applicable to SSF (e.g. Ostrom 1990; Pomeroy 1995) remain relevant.
More recent thinking on human dimensions in ecosystem approaches to fisheries has broadened to incorporate concepts of sustainable livelihoods, social networks, governance and resilience in seeking practical ways to plan collaboratively for strengthening organizations and collective action, such as is required globally (Kalikoski and Franz 2014) and has been attempted in the Caribbean (McConney and Phillips 2011). Poverty is one of those broadening concepts receiving increasing attention in the literature on SSF globally (Béné et al. 2007) and in Caribbean small-island developing states (CRFM 2012a, b). Poverty has evolved conceptually to be broader and also consider self-organisation and collective action, consistent with resilience thinking (Jentoft and Eide 2011). Even if poverty in terms of income, food security and nutrition may not be major issues, if the fisheries sector lacks an effective collective voice this aspect needs to be taken into account.
Some authors argue that recent empirical evidence from fisherfolk organising should cause researchers and practitioners to re-think the conceptual frameworks employed for fisheries organisation investigation and intervention, to consider additional factors and strategies (Pinho et al. 2012; Basurto et al. 2013). They suggest that, even when conditions are not ideal for collective action, and barriers exist, social actors are sufficiently adaptive to devise strategies for developing capacities to take action that is either compatible or incompatible with achieving sustainable fisheries. Determining how fisherfolk organizational capacity for collective action develops, and for what purpose, is relevant to the implementation of the SSF Guidelines.
To obtain insight we examined the development of capacity in the Barbados National Union of Fisherfolk Organisations (BARNUFO) from its formation in 1999 to the present. BARNUFO is a secondary (national) level body originally comprising only primary (local) level site-based fisherfolk groups, but now open also to any individual. BARNUFO is, in turn, a member of the tertiary level Caribbean Network of Fisherfolk Organisations (CNFO) (McConney and Phillips 2011). The CNFO is an alliance of national fisherfolk organizations in the 17 member states of the Caribbean Regional Fisheries Mechanism (CRFM). The CRFM has formulated a Caribbean Community Common Fisheries Policy, which could be an instrument for giving effect to the SSF Guidelines. The CNFO is seeking to play a leading role in implementing the SSF Guidelines in the Caribbean (FAO 2013). BARNUFO's evolution offers insights into the capacity development needs and dynamics of a small fisherfolk organisation, and how it is preparing to implement the SSF Guidelines. The analysis illustrates the complexities of capacity development from organisational to individual levels. To a large extent the former concerns building organisational resilience while the latter concerns sustaining fisherfolk livelihoods, with governance as an overarching dimension.
The next section sets out the integrated conceptual framework and methods used to investigate the case. The results of applying the framework follow, starting with the vulnerability context, examining adaptive capacity and resilience, and ending with plans for implementation of the SSF Guidelines. Finally we discuss the implications for developing capacity in general, as well as in association with the SSF Guidelines, for BARNUFO and similar fisherfolk organisations.
Concepts and methods
The integrated conceptual framework and participatory methods are described in this section.
Concepts
The 'governance-livelihoods-organisational-resilience-integration' (GLORI) framework (Fig.
1
) was assembled for analysing capacity development in relation to fisherfolk organisations and collective action (McConney and Medeiros
2014
). It is based on the conceptual broadening previously introduced, and acknowledges that sustainable livelihoods are the main interests of most fisherfolk organisations, as stated explicitly in BARNUFO's constitution. Although sustainable SSF conservation and development, such as via the SSF Guidelines, seems entirely consistent with governance for sustainable livelihoods and organisational resilience, it cannot be assumed that the capacity to implement fisheries instruments either exists or will be developed in fisherfolk organisations given their multiple, more immediate, and competing priorities. It would be ideal for the integration of governance, livelihoods and organisational resilience to be seamless and mutually supportive as presented in the GLORI framework, but is this the reality?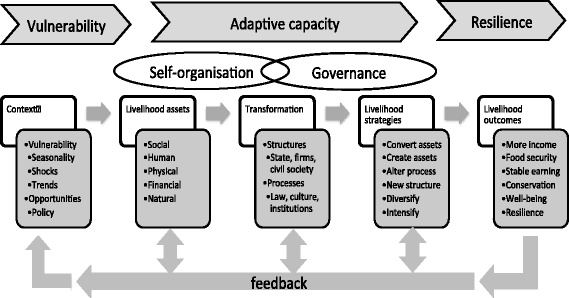 The conceptual components of the GLORI framework are not new, but their integration is not commonplace. There is abundant literature on fisherfolk organisations such as cooperatives (Jentoft 1985 and 1986, Hannesson 1988, Meynell 1984 and 1990), on co-management (Brown and Pomeroy 1999, Pomeroy et al. 2004, Pomeroy and Rivera-Guieb 2005) and on adaptive co-management (Armitage et al. 2007, Trimble and Berkes 2015). These provide much information from both conceptual and empirical analyses. Combined, these literatures address governance, livelihoods and organisations in relation to ecological issues that are relevant to the ecosystem approach to fisheries, and which are consistent with the resilience thinking on social-ecological systems (Lebel et al. 2006) that pervades the SSF Guidelines. The GLORI conceptual framework, based on the sustainable livelihoods approach (Allison and Ellis 2001; Béné et al. 2007), integrates governance, livelihoods and resilience with a focus on organisations. It scales up livelihood analysis. Sustainable livelihoods need to be examined from the perspectives of groups, networks and especially organisations in addition to individuals, their enterprises and households. Ideally, one should see a fisherfolk organisation advance from vulnerability towards desirable resilience through the development of adaptive capacity emerging from members acting collectively. GLORI accommodates such dynamics.
Scanning across the GLORI framework, the vulnerability context includes the natural aquatic ecosystem's bio-physical and ecological elements. Consistent with a working definition of interactive governance that includes self-organisation (Kooiman et al. 2005), GLORI includes institutional structures and processes (as does livelihoods analysis) for the creation of organisational and societal opportunity in addition to problem solving. In this key area of adaptive capacity all five types of livelihood assets are important, but we are concerned mostly with human and social capital and their roles in organisational capacity to self-organise. This incorporates access to and influence upon structures and processes that favour resilience and transformation. Links between collective action and governance in social-ecological systems are many (Ostrom 1990 and 2009). Human capital is instrumental in leadership and enabling key individuals to be change agents. Attention must be paid to structures, patterns and relationships within social networks and organisations (Diani and McAdam 2003). Networks can be avenues to new resources and empowerment (McConney et al. 2011b). Social networks are prominent in access to people and resources (McConney 2007) in self-organisation led by key actors (Borgatti 2006) and in collective action (Flores et al. 2012). Network governance (Bodin and Prell 2011) is a feature in institutions for resilience and transformation (McConney and Parsram 2008, Parsram and McConney 2011). Livelihood strategies change over time and built resilience that depends upon feedback from their outcomes and external circumstances. Organisational and individual strategies contribute to the self-organisation that facilitates transformative change (Olsson et al. 2014) if conditions within and surrounding a social-ecological system are favourable. Livelihood outcomes achieved through fisherfolk organisations achieve success and hence resilience in relation to objectives aimed for through the implementation of the SSF Guidelines (FAO 2015).
Methods
Each component of the GLORI framework contains concepts that are associated with several methodologies for measurement. One approach would be to construct a suite of linked indicators for quantitative and qualitative measurement. Such a mixed methods approach is highly desirable when sufficient prior information exists from which to construct system models for measurement (Creswell 2013). However, we tested the GLORI framework in participatory action research with BARNUFO under data poor conditions. Less complex exploratory methods, consistent with fisherfolk knowledge systems, preferences for engagement, and interests were necessary to obtain a better understanding of BARNUFO capacity development. The research was conducted mainly from November to December 2013 in collaboration with BARNUFO. Since 2014, the findings have been updated through informal interviews. The investigative team was comprised of academics, fisherfolk and process consultants. Resource persons, serving as mentors for BARNUFO, assisted the research and its validation. The government fisheries authority was fully involved. The applied research was simultaneously an exercise in capacity development.
The scant published literature on fisherfolk organizations in Barbados was reviewed. BARNUFO and the government Fisheries Division provided data and unpublished documents. The evolution of BARNUFO could not be reconstructed from documentary evidence or institutional memory in any one place. It was very fragmented, and most data resided in the fisheries authority due to unreliable record keeping by BARNUFO. Key informant interviews provided additional insight.
Workshops for research (12 Dec 2013) and fisherfolk validation of findings (28 Dec 2013) were conducted using interactive methods (Blackman et al. 2013). The BARNUFO timeline, factors favouring success and failure, and perspectives on the SSF Guidelines were workshop outputs. The timeline process used a snowball method as memories were shared, prompting others to fill gaps. Workshop participants individually identified factors of success and failure before discussing results together. Similar to the factors, SSF Guidelines capacity development points were noted and discussed. About 30 fisherfolk and fisheries officers participated in the research.
Results of the research and validation workshops (Blackman et al. 2013) were woven into a case study report presented at a FAO workshop in Barbados in 2014 (FAO 2016). The Barbados case built upon a Caribbean analysis presented at a FAO workshop in March 2013 (Kalikoski and Franz 2014) by adding situation-specific insight focused on one organization. The participatory processes used with BARNUFO were intended to improve institutional memory and develop capacity for fisheries governance. Fisherfolk who participated wanted practical follow-up such as improvements in organization administration, projects that can yield income, and initiatives that tangibly enhance their livelihoods and well-being.
Applying the framework
The GLORI framework is applied to BARNUFO's evolution in terms of vulnerability context, adaptive capacity and building resilience. Examining linkages with sustainable livelihoods is a common thread throughout the analysis, as are interactions within the governance arrangements.
Discussion
This case of organizations and collective action in SSF investigated the evolution, from 1999, of BARNUFO as a national fisherfolk body whose members were initially only site-based fisherfolk groups. BARNUFO has prospered and it has struggled. Its evolution offers insight into building adaptive capacity and resilience in such organisations. The analysis used a 'governance-livelihoods-organisational-resilience-integration' (GLORI) framework based primarily on the premise that sustaining or enhancing fisherfolk livelihoods is important to organisations, and hence SSF organisational analysis should take into account the issues and interactions typical of livelihoods analyses as well as governance by the collective.
The GLORI framework proved useful in analysing both the individual and organisational aspects of livelihoods and the consequences for organisational resilience. The framework needs to be further refined, but it is a step in the direction of a more fisherfolk-focused approach rather than a primarily academic construct. The integration of concepts is essential but challenging due to the different approaches used for measurement and analysis. As expected, empirical evidence will be invaluable for the process of testing and refining the approach. The results of this participatory research are discussed below as a contribution.
Although BARNUFO maintained an impressive record of activity aimed at fishing industry capacity development, it found itself in difficulty with low capacity and rapidly dwindling membership due to issues with internal governance. It then struggled, assisted by external agents and also through self-organisation to correct governance deficiencies and re-build its resilience through adaptive capacity. This is still a work in progress aided by feedback from fisherfolk to identify and address the most critical deficiencies. The SSF Guidelines provide a means for re-building with a clear focus as well as an end goal in terms of setting targets for achievement. Participants, though unfamiliar with the SSF Guidelines, were keen to discover more about them and how they could be of practical assistance. Lessons learned about BARNUFO from secondary sources and from workshops with fisherfolk illustrate the complexity of collective action and the network of internal drivers and external influences on fisherfolk organizing.
BARNUFO is now preparing for national implementation of the SSF Guidelines. Fisherfolk are considering the implications of the SSF Guidelines for organizational resilience through capacity development. Providing feedback, they recommended an iterative process for building capacity to address the SSF Guidelines This further develops organizational and industry capacity when implementation succeeds. This is an adaptive process for progress, and the following sections briefly discuss in more detail how the GLORI framework provided insight.
Vulnerability context
Ecological vulnerability has not been a priority of BARNUFO despite occasional attention to fisheries management planning. The Barbados fishing industry is accustomed to seasonality in fish abundance as well as considerable variability between and within seasons. Ecological uncertainty is a condition with which fisherfolk can usually cope (Berkes et al. 2001). Only the 1999 sub-regional fish kill and recent massive influxes of Sargassum seaweed since 2011 have provoked brief organisational responses to the feedback generated by ecological uncertainty.
There is little or no fisheries management by the state authority. In contrast to global best practice (FAO 2015), there is no fisheries policy or management planning with which the organisation or its members must interact (e.g. via quotas, licences, regulations) in order to pursue their livelihoods. Barbados fisherfolk do not see this as a threat to livelihoods since fisheries science is unfamiliar ground and the State has not proven very competent in the few fisheries it has attempted to manage.
Socio-economic and governance vulnerability, often interwoven, are of much greater concern as illustrated by the BARNUFO timelines. Along the value chain, threats have included conflicts over maritime areas, fish price fluctuations, loss of consumer confidence in fish quality, poor landing site infrastructure and operations that constrain seafood marketing. Unlike fisheries resources, these are treated as key issues that provide feedback for active attention, usually by engaging the government agencies that have shown slow or low responses to addressing fisherfolk livelihood matters. In the poverty context, it is mainly about having a voice in these matters. Poverty was not explicitly identified as an issue in fisherfolk workshops or interviews, but the sense of powerlessness that fisherfolk experience was conveyed particularly in terms of not achieving policy influence. The notion of voice as a dimension of poverty was not evident in the fisherfolk organisation. They did not see poverty as a facet to their vulnerability and did not make attempts to influence policy.
The findings do not suggest that vulnerability has decreased over time. Instead, many of the same threats persist and have become chronic. In addition, new or exacerbated threats are likely if the predictions and projections of climate change and variability for increasing uncertainties about species composition, abundance, seasonality, distribution and life cycles (Nurse 2011) are correct. BARNUFO and the entire fisheries social-ecological systems can expect more surprises, multiple stressors and concurrent perturbations. This makes the need for strengthening adaptive capacity more critical as feedback to inform responses will also be characterised by uncertainty.
Adaptive capacity
In the framework, adaptive capacity considers self-organisation and governance, plus livelihood assets, structures, processes and strategies. The case shows that adaptive capacity is being built very slowly, if at all, by and within BARNUFO. The organisation has settled into a rhythm, still with some assistance from the fisheries authority and a few external entities, keeping busy and offering benefits to the industry that encourage free-ridership. Some have argued that at times it operates as an extension of the Fisheries Division with a high level of dependence that goes well beyond its integrated physical location. These conditions may work against self-organisation by constraining BARNUFO's adaptive capacity, self-determination and innovation. Yet there are several areas that could be built upon in a sustained programme, not just short-term project, of capacity development. Many of these were envisaged in the 2002–2006 strategic plan (BARNUFO 2002) that are still relevant today since many matters have not yet been adequately addressed. Some speak directly to livelihoods and building resilience.
BARNUFO has focused mainly on the human capital of the fishing industry through training events. The issue of leadership now needs to be tackled urgently in order to halt and reverse the trend of decline in landing site organisations as well as to re-energise the BARNUFO Board. Leadership succession planning will assist in conferring resilience. Building assets through sustainable financing will require BARNUFO to have an entirely different, more sophisticated, organisational culture. The business skills of individual fisherfolk leaders have not resulted in organisational economic activity in BARNUFO. Financial innovation and economic activity may become more feasible after leadership training coupled with an expanded board and membership.
Strengthening through social and institutional networking also ties into livelihoods. BARNUFO is aware that network analysis offers insight for designing and implementing organisational resilience. The BARNUFO timelines show that networking is one of the functions in which it has performed well, even if not always strategically. Capacity to lead and manage collective action is another priority that could be addressed as membership is expanded. The validity of BARNUFO as the national representative fisherfolk organisation must be able to stand up to scrutiny much more than at present. Opportunities for transformation (when adaptation is not sufficient), the ability to influence structures and processes, and to craft diverse livelihood strategies, are all likely to improve with networking including regionally and globally through use of information and communication technologies. Such technologies facilitate real-time feedback at all levels.
Fostering partnerships between government and the industry leads on from networking. Here the focus needs to be on improving the enabling policy environment. Fisheries management plans need to be developed collaboratively again in order to reduce areas of uncertainty and offer the industry guidance. These initiatives require the relationship with government to be re-negotiated since the partnership at present is currently rather one-sided with BARNUFO getting little power and authority to go with responsibility. Such re-negotiation is in the process of self-organisation that is a prominent feature of resilience.
Resilience
Poor institutional arrangements and memory have not favoured the development of resilience in BARNUFO. Loss of resilience is apparent from the dwindling membership and the failure to act swiftly upon the 2006 constitutional amendments to reform BARNUFO. A window of opportunity may be provided by a combination of factors including the current enlightened leadership, willing partners and a global trend to implement the SSF Guidelines. Fisheries are complex and adaptive social-ecological systems. Accordingly, BARNUFO needs to learn from the outcomes to date, and the accompanying positive and negative feedback. Better institutional learning must become a priority. Participatory monitoring and evaluation systems can be instituted, and these processes go well with the feedback needed to sustain livelihoods. The next essential steps are learning for further adaptation. These changes are fundamental, will require considerable leadership and the collective action of many fisheries stakeholders to be sustained over a period of adjustment.
The SSF Guidelines may provide guidance for this evolution, and their inclusion of poverty, gender, decent work and the like could open new avenues for policy influencing by BARNUFO. Poverty is clearly an issue although it is not recognised as such. The female Presidents of BARNUFO did not place emphasis on gender mainstreaming but this is said to be changing. Several other national fisherfolk organisations in the Caribbean resemble BARNUFO. Lessons learned here are applicable to them. Their attention to both livelihoods and resilience is essential if they are to succeed in maintaining and growing membership as well as participating in multi-level fisheries governance.
Declarations
Acknowledgements
The case study on which this paper was based was presented during the workshop on Strengthening organizations and collective action in fisheries – Towards the formulation of a capacity development programme, held in Barbados on 4-6 November 2014. The workshop was organized by the Centre for Resource Management and Environmental Studies of The University of West Indies and financially supported by the Food and Agriculture Organization of the United Nations (FAO). This journal paper was discussed and reviewed at the write-shop on Strengthening collective action and organization in small-scale fisheries for poverty reduction organized by FAO on 16-18 November 2016 in Rome, Italy. Strengthening collective action and organizations is one of FAO's pillars to reducing rural poverty. The authors thank FAO for supporting the development of this work.
Availability of data and material
not applicable.
Funding
FAO provided financial support.
Authors' contributions
PM and RM developed the GLORI framework, and PM led its field application. BS conducted much of the field research and data analysis. VN led the participation of fisherfolk in the research and the interpretation of results from a fisherfolk perspective. All authors read and approved the final manuscript.
Ethics approval and consent to participate
not applicable.
Consent for publication
not applicable.
Competing interests
The authors declare that they have no competing interests.
Publisher's Note
Springer Nature remains neutral with regard to jurisdictional claims in published maps and institutional affiliations.
Open AccessThis article is distributed under the terms of the Creative Commons Attribution 4.0 International License (http://creativecommons.org/licenses/by/4.0/), which permits unrestricted use, distribution, and reproduction in any medium, provided you give appropriate credit to the original author(s) and the source, provide a link to the Creative Commons license, and indicate if changes were made.
Authors' Affiliations
(1)
University of the West Indies Cave Hill Campus, Bridgetown, Barbados
(3)
Barbados National Union of Fisherfolk Organisations, Bridgetown, Barbados
(4)
Federal University of Paraná, Paraná, Brazil