Creating political spaces at sea – governmentalisation and governability in Norwegian fisheries
Maritime Studies
2017
16:18
Received: 7 March 2017
Accepted: 30 August 2017
Published: 30 October 2017
Abstract
How do technologies of power make the world governable? The understanding of how management techniques create governability remains rather poor. In this article, I analyse how spatial regulation in Norwegian fisheries direct human behaviour towards scientific, political, and administrative objectives. Like other fisheries' regulations, they contribute to governmentalisation and governability, and this article illustrate how this happens. Governance aims towards specific outcomes, but in the attempt to make the world governable, the governing and those who are governed are changed and new social orders may be the result. Thus, governing instruments are not only instruments for the direction of behaviour, but also instruments for social change.
Keywords
Spatial management
Fisheries regulations
Governmentality
Governability
Introduction
Governance is a complex art (Jessop 1997). Despite much research on fisheries' governance organisation and instruments, there are still things to learn about how fisheries and marine governance develop and 'how power and rule' work. In addition to complex fish-quota management arrangements, Norway also uses regulation of sea space as governing instruments. The instruments are varied from technical regulation of use of gear in certain areas via specific zones for certain vessel sizes to protection areas. Some may see these regulations simply as rules for order on the fishing grounds while the quota management arrangements are the central policy instruments; but as I will show, that is not the case. The spatial regulations in Norwegian fisheries do more than just direct behaviour on the fishing grounds, they actually change the world.1 The fisheries' governance discourse has after Hardin's Tragedy of the Commons (1968) been formed around solutions founded on top-down control through state apparatuses, use of market mechanisms like transferable quotas, or on institutional set ups like co-management arrangements. (See for example: Jentoft and Kristoffersen 1989, McGoodwin 1990, Berkes 2010, Caddy and Cochrane 2001, Hannesson 2004, Arnason 2008, Ban et al. 2009, Smith et al., 2009). Scholars with institutional/organisation studies perspectives have made important contributions to governance studies (Lemke 2007) and the institutionalist inspired interactive governance has in the last decade been an influential approach in fisheries' governance studies. According to interactive governance scholars, governance is all the interactions that takes place, and governance encompasses both governing, government, and non-formal processes (Kooiman and Bavinck 2005, Jentoft and Chuenpagdee 2015a). In this approach, the conditions for governability is a key element in governance studies. Governability is the capacity of a socially constructed governing system to govern a complex system-to-be-governed (Kooiman et al. 2005, Jentoft 2007, Jentoft and Chuenpagdee 2015a, b). As it is defined, governability is about the instrumental outcome and the quality of governance in terms of addressing 'societal concerns' (Chuenpagdee and Jentoft 2015:5). In this study, I explore how spatial regulations contribute to governability and create new social orders. Hence, I also address the general question of how governance is possible. As I will show, spatial regulations are not only about the instrumental designation of sea space for different activities to create order, but they are performative instruments that change the use, practices, conceptualisations, and constructions of reality. I study how, in a broader sense, they contribute to the development of governmentality in Norwegian fisheries, and then in the next run, governability (Jentoft and Johnsen 2015). I analyse these regulations as part of the art of governing (Lemke 2007).
In the next section, I describe the theoretical framework for the analysis, followed by a section about methodology, method, and data. The fourth section presents the different regulations that I use in Section 5 to construct a typology. The last two sections are discussion and conclusions.
Theoretical approach: Governance, governability, and governmentality
Governance exists in many forms or modes from local, bottom-up self-governance to hierarchical top-down governance deploying a wide range of interventions and instruments (Jentoft et al., 1998, Ostrom 1990, Kooiman et al. 2005, Chuenpagdee and Jentoft 2015). Since there are several forms of governance (Rhodes 1996), 'governability' may contain several meanings as well. In my perspective, governing processes construct the system-to-be-governed, and in the same process, they reconfigure the governing system. Consequently, I approach interventions and instruments as tools that produce governability. However, constructions do not come out of nothing. In his studies of the history and genealogy of governing institutions and practices, Foucault (1978a) pointed out that there would always be certain mechanisms of dominance, power, and control intrinsic in all relations at all levels in the social body. In accordance with Lemke's interpretation of Foucault (Lemke 2015) and the actor-network theory (Latour 2005), I agree that practices, objectives, and choice of instruments affect production and codification of power. Further, 'the State is a practice, not a thing' (Foucault 1978b: 277), but with materiality in the form of bodies, tools, expertise, rhetoric, institutions, and so on in a physical and symbolic environment (Lemke 2015). This leads us away from an understanding of governing as simply deploying management procedures and instruments towards governing as governance with negotiations, adaptations, revisions, rearrangements of procedures and instruments, and with redistributions of power between actors. These processes take place even in situations where the State holds significant power, even if the State in itself is not the primary source of power (Foucault 1978d). In this perspective, State and power are relational products and network effects (Latour 2005).
Inspired by Foucault (1978b) and Lemke (2007), I see system properties as something that develop in concert with the tools used to construct the system. The whole governance apparatus, science, laws, administrative procedures, and regulatory interventions are involved in construction of the system-to-be-governed at the same time as feedback and responses modify and change this apparatus. Like in the actor-network theory, I focus on how our actions, instruments, tools, and rhetoric contribute to create a representation of a relational reality that occurs as a governable system. Therefore, I approach fisheries governance as a network of evolving cybernetic mechanisms of feedback, regulation, and construction that become more or less stabilised by use of certain 'technologies of power', like spatial regulations, that are deployed to discipline and gain control over objects (Foucault 1978a, d).
In Norwegian governance, a division of labour between politics, administration, and expertise is institutionalised. The parliament decides upon the general principles, laws, and the frame for governmental action. Government and parliament define political goals in cooperation; the executive power is with the government or in the fisheries, delegated to the Fisheries Directorate or other administrative bodies. The governance is based on advice from formal experts and through collaboration with stakeholders based upon their practical expertise.
This division of labour can be translated into a conceptual model of the relationship between governance, nature, and society (Fig.
1
). The model reduces real-world complexity, but is useful to illustrate how governance can be organised.
2
The figure includes policymaking, decision making, administrative actions, and formal management at the top with the natural and societal interactions within fisheries constituting relations-to-be-governed. The model describes the Norwegian fisheries governance system as stable relationships, but the model is an ideal type description of functions and does not capture how the world is (Holm
1996
, Johnsen et al.,
2009a
, Johnsen
2014
).
3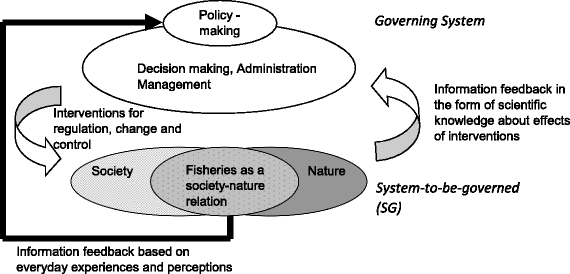 According to mainstream understanding, a governing system in concert with actors in the system-to-be-governed will define the reasons and objectives that legitimise intervention and regulation and the indicators to measure success. However, the reality is more complex; to govern is an 'art'. This art is what Foucault (with a concept borrowed from Barthes) define as governmentality (Lemke 2001, 2007). Governmentality includes mentalities, rationalities and techniques for governing (Lemke 2001, Mayhew 2009). In Norwegian fisheries, governmentality is central for the construction of governability (Jentoft and Johnsen 2015). Governmentality is not a 'thing', but a process of governmentalisation (Foucault 1978c:109, Dean 2010): an integration of individuals, institutions, State, and Nature into a collective that shares thoughts, images, rationalities, and belief in a certain apparatus for governing. Governmentality does not come from the State, but develops with the State, the Citizens and the Territory—in our case with the formation of the socio-ecological networks that we call the fisheries. In this respect, governmentality and governability are evolving dynamic capacities, and in this article, I address how spatial regulations contribute to governmentalise the fisheries. The question that remains is how to study this.
Methodology, methods and materials
Interactive governance scholars have developed a comprehensive and holistic framework for governability assessment (Jentoft and Chuenpagdee 2015a, b). The framework rests on the assumption that governability can be analysed by breaking the governing system and the system-to-be-governed down to components and interactions, quite in line with Fig. 1. Jentoft and Chuenpagdee (2015c) illustrate that the task is not so simple, as most of the research focusses on institutional aspects and only briefly addresses all stages in the assessment framework. Despite the fact that they illustrate the limitations in holistic approaches, several of them deliver sharp analyses of how governing instruments affect governability (Høst 2015, Johnson and Pálsson. 2015). These articles point towards alternative ways of studying governability. Studies inspired by the actor-network theory (Latour 2005), describe how management and technological change have resulted in a transformation called cyborgisation of the Norwegian fishing fleet (Holm 1996, Holm 2001, Holm and Nielsen 2004, Johnsen 2005, 2014, Johnsen et al., 2009a).4 They study how development of a quota regime in Norway have contributed to creating a governable Norwegian fisheries network. I applied a similar but not identical approach to study spatial regulations. The understanding of the Norwegian fisheries sector as an evolving network of cybernetic relations was the starting point for an analysis of spatial instruments, inspired by Foucault's (1978a, b, c) analytics of government. As a first step in the research, I explored the genealogy of and the expressed reason and rationality behind different spatial regulations used in Norwegian fisheries. I studied the history of the regulations and the arguments and rhetoric used in official documents to clarify the perspective the regulations were based on and the underlying assumptions and the knowledge they are based on to be able to clarify what was supposed to be achieved by the regulations. The documents that were analysed contain narratives that prescribe regimes of practices that shall be used, with specifications of objectives, knowledge, and regulation techniques. In other words, they present the techne, episteme and ethos of the regulations (Dean 2010). Central documents for a study of spatial management are, for example, the propositions to the Parliament for the 1857 and 1897 laws about cod fisheries in Northern Norway, called the Lofoten Laws (Prp 1857 and Prp 1897), the Marine Resources Act (2008), and the report (NOU 2005) that was prepared for the Marine Resources Act draft bill. The documents related to these four laws define the main principles for spatial management in the fisheries in Norway. The general support for these principles are evident from the comments submitted in the mandatory hearing of the Marine Resources Act draft bill, where all organisations and individuals in Norway could submit written comments. The hearing is summarised in the Ministry's Parliament Proposition for the Marine Resources Act (Ot. prp. nr. 20 2007–2008), and those who commented supported the draft bill. All political parties, stakeholder organisations, and the public seemed to agree on the need for the Marine Resources Act and the general principles it rests on (Anon 2008). The parliamentary debate reflected the consensus.5 Thus, the support for regulation and governing of marine resources and activities is high in Norway. The report, proposition, and hearing also sum up the former laws, former and contemporary principles, and objectives for marine resource governance in Norway as far back as the 1930s (Ot. prp. nr. 20 2007–2008, NOU 2005),6 and they even contain elements from Prp 1857 and Prp 1897. I identified the main purposes for the regulations in the Marine Resources Act and other official policy documents, laws, and regulations: for example, the contemporary and former versions of the Regulation of Professional Fishing Conduct in the Sea in Norway (FOR-2004-12-22-1878), which is a general regulation for commercial saltwater fisheries in Norway. In addition to the documents related to the Marine Resources Act, I have analysed the most recent white paper about king crab management (Meld. St. 17 2014–2015) that sums up the principles and procedures for marine resource governance. I have also studied published historical studies of the older laws and regulations. The first paragraphs of laws and regulations define the purposes and objectives and are easy to identify, but to find the arguments supporting the objectives makes it necessary to study the reports and documents they are based on. From these documents, a specific and evolving rhetoric repertoire that altogether forms a marine governance discourse can be identified. The rhetoric repertoire expresses the principles, images, procedures, and instruments for marine governance in Norway. The expression of need for governance and belief in ability to govern are evident in the reports and draft bills, the Ministry's propositions, the hearing comments, the Parliament Committee's recommendations, and the plenary debate in the Parliament. From this repertoire, it has been possible to identify categories of arguments that relate the older laws, the Marine Resources Act, regulations, and governmental documents to each other both in the past and present.
History and categorisation of spatial regulations in Norway
Establishing a typology for spatial regulations in Norway
Based on deduction and interpretation of how the purposes and objectives connect to the development of general marine resource governance objectives in Norway, the rhetoric in the documents I have referred to can be characterised as rhetoric about conservation, effectivity, and equity. Section 7 in the Marine Resources Act (2008) translates these rhetoric into objectives under the heading: 'Principle for management of wild living marine resources and fundamental considerations'. Conservation is about protection of resources, habitat, and environment and is mentioned in the Section 7 introduction and in points (a), (b), and (f). It effectivity addresses both economic efficiency and order, so the fishers can fish without problems and conflicts and allows control to be effective (Marine Resources Act [2008], Section 7, points (c) and (e)). Equity is about legitimacy and fairness in terms of access to and allocation of resources as well as shares of the income (Marine Resources Act Section 7, point (d)). The equity dimension includes a special concern for the Sami fisheries (Marine Resources Act [2008], Section 7 point (g)). The Marine Resources Act encompasses all the marine resource oriented regulations, and the rhetoric reflects the ethos both for former regulations and for the regulations in use in Norway today.
Based on this, I divide the spatial regulations in Norway into three categories:
Interventions for Effectivity, Interventions for Equity and Fairness
and
Interventions for Conservation and Sustainability
. The categories are not exclusive; regulations may have more than one purpose, but the main argument for establishing them will belong to one of these types. The two first categories have a long history dating back to the eighteenth century, while the regulations for conservation have a more recent origin. The thirteen spatial 'instruments' that I presented in the previous section article fall under one, two, or all three categories. As both Table
1
and the description illustrate, there has been a development over time from simple to more complex objectives. Of the regulations presented in Table
1
, six have effectivity as the only or the main objective, six are linked to equity, and eight are directed towards conservation. Under these thirteen instruments, there are several other more specific regulations that may vary in details but with their main objective related to at least one of the categories (see Table
1
).
Table 1
A selection of area regulations in Norway 1800–2016
| | | Intervention for Effectivity (IE) | Intervention for Equity and Fairness (IF) | Intervention for Conservation and Sustainability (IC) |
| --- | --- | --- | --- | --- |
| 1 | Law of Order (Lofoten) 1816 | X | | |
| 2 | The Free Law (Lofoten) 1857 | | X | |
| 3 | The Lofoten Law 1897 | X | X | |
| 4 | Local committees (Lofoten and other Areas) | X | | |
| 5 | Local regulations | X | | X |
| 6 | Spatial regulations for Trawlers and Long liners over 21.35 m | | X | |
| 7 | Fjord Lines | | X | X |
| 8 | Flexible Areas | X | X | X |
| 9 | Real Time Closures | | | X |
| 10 | Precautionary Areas | | | X |
| 11 | Marine Protected Areas | | | X |
| 12 | Local Protection Zones | | | X |
| 13 | King Crab regulation | X | X | X |
The three types of interventions have different ethos and episteme. The ethos for Interventions for Effectivity is the effective use of resources based on economic and technical calculations as the episteme; waste of resources through ineffective exploitation is unethical. Order on the fishing grounds was seen as a main element for creating effectivity. Interventions for Equity and Fairness has equity and fairness as aim and builds on a belief that all humans shall have equal rights and opportunities. The episteme is more about clarifying values, needs, and rights. Protection of coastal and small-scale fisheries from fierce competition from large-scale operations like trawling and mechanised long-lining has been and is an important aspect in these interventions. Interventions for Conservation and Sustainability regard humans as a threat to nature and regards it as immoral not to regulate human impact. The episteme is the scientific representations of nature, and these interventions are based on advice from expertise, for example, about the need for protection of areas and on monitoring for real-time closures. Table 1 shows how spatial regulations can be categorised based on the typology.
Even if the purpose behind the Interventions for Effectivity and the Interventions for Equity and Fairness have been or are different, they have in common that they direct behaviour in relation to societal objectives. They mirror the rationalities and power relations that dominated in society when they were established; the concerns behind them were human well-being and societal development. The Lofoten Laws framed the system-to-be governed as a social network, and governing, governance, and governmentality were about arrangements that protected or changed the social order. Even today, these kinds of arrangements still have a largely political character. Social and political processes can change them, either through negotiations, use of power, or through influence and organisation. As I mention below, this happened after 1990 when these interventions received a new ethos. This happened because after the Arctic cod stock collapse scientific experts and politics completed the reconstruction of the fishery system-to-be-governed from a social to a socio-ecological system. This reconstruction process took place over a long period (Holm 2001), but was somehow completed when concerns for nature replaced concerns for humans as the most prominent in governance. The Interventions for Conservation and Sustainability are justified by ecological arguments and sprung out of this reconstruction process. These interventions depend on input from ecological or biological expertise. The use of these interventions has contributed to expanding Norwegian thinking about what we govern. While Interventions for Effectivity and Interventions for Equity and Fairness mainly address human-human or human-society relations, the Interventions for Conservation and Sustainability address human-nature relations. With the reconstruction of the system-to-be-governed from a human system to a coupled socio-ecological system, with acceptance of scientific models of fish stocks and ecosystems as true representations of nature, the notion of what to govern and how to govern changed. The perception of nature-human relations changed. The new conservation and sustainability interventions were required, but even the former regulations of the Interventions for Effectivity or Interventions for Equity and Fairness became loaded with the new conservation and sustainability ethos.
Discussion—The production of governmentality and governability
Spatial regulations do not only regulate behaviour, but they change perceptions, attitudes, and meanings about the sea space and its inhabitants. The Free Law for example led to a chaotic situation; still, it manifested equity as a central element in Norwegian fisheries governance. It had an impact on the coproduction of networks of meanings, understandings, and concepts shared by the actors in the governing system/system-to-be-governed complex. Therefore, even if regulations fail to produce the expected instrumental outcome in the short run, they may contribute to governmentalisation. Over time, governmentalisation is an 'invisible revolution' like Holm (2001) described in his study of institutional changes in Norwegian fisheries. Governmentalisation is about development of new networks of meanings, based on the translation of events and experiences into ideas and storylines that explain, structure, and institutionalise the world (Sønvisen 2013). These new networks of meanings direct new actions. From this perspective, experiences with open access, the need for regulation of order, the stories about resource collapse, regulations for change, protection of areas, and the impacts of the Gordon-Schaefer model on fisheries management, transferable quota arrangements, and trawl-free zones are elements in a construction of a shared contextual framework that makes the art of governing possible. In this respect, the processes of cyborgisation in the form of structuring, ordering, and organising fishing practices as action-feedback-response both inside and between systemic organised bodies, also fits into the process of governmentalisation (Bavington 2009; Johnsen et al., 2009a, b).
On the other hand, the fishers are not faceless victims. As Jentoft and Kristoffersen (1989), Jentoft (2007), Johnsen (2014), and Jentoft and Johnsen (2015) describe, development of governability cannot be understood without the participation of the fishers. In the Norwegian context, the fishers' response to governing interventions and their ability to self-govern affects the formation of the governing system and the system-to-be-governed. Moreover, we cannot understand governability without the actions of the scientists who model different elements in the system-to-be-governed and suggest causes and effects. Their input is important for formation of objectives and intervention design. Finally, we need to know about the governing system and system-to-be-governed responses to scientists' input. In this paper, I have described how spatial regulation procedures and instruments aim to direct human behaviour in relation to effectivity, equity, and conservation. If governmentality is the art of governing, and the concept includes mentalities, rationalities, and techniques for governing (Lemke 2001, Mayhew 2009), governmentality depends on shared understandings between the actors that together construct or accept the construction of the governing system/system-to-be-governed. Mentality, rationality, strategies, laws, rules, regulations, and the ability to adapt and change will be part of the governing system and the system-to-be-governed. Jentoft and Johnsen (2015) call the ability to adapt for change adaptamentality, and it is an important part of governmentality as the governed have a voice and the governors and their allies no longer exclusively control authorised knowledge. Interventions for Effectivity, Interventions for Equity and Fairness, and Interventions for Conservation and Sustainability should perform different rationalities and serve different purposes. The rationality they convey may become symbolic signposts for successful governance while their invisible contribution may be more important. The Law of Order's success was the institution of spatial organisation it created, not the inequality it conveyed. The success of the fjord-lines may not only be measured in relation to healthy coastal cod populations, but to a division of space that reserves fishing near shore for smaller boats. Even if some of the instruments like the RTC, flexible areas, and precautionary areas are more technical means that are used in pragmatic ways to meet particular challenges, they contribute to disciplining the fishers and are important for governmaentalisation. The spatial interventions are not neutral regulatory instruments; they are performative agents that contain a variety of potential images, modelled relationships, ideology, and drivers for change that make them usable for several purposes (Johnsen 2014). Even if the Norwegian system is stable, it is not fixed. It changes incrementally and somewhat invisibly over time, but with some major principles (democracy, legality, equality, transparency, and effectivity) intact. Adjusting the governing system/system-to-be-governed means adjusting to new images, models, or metaphors (Ostrom 1990), but if a radical adjustment is to take place, the context must probably change radically as it did with the herring collapse in the 1960s or on 18 April 1989 when the open cod fishery closed in Norway. Both these events led to ecology becoming part of the governance context. This change cleared the way for the use of new spatial tools, like RTCs, fjord-lines, and area or habitat protection. In addition, former arrangements like trawl-free zones were refuelled with ecological arguments and can now be used and developed for biodiversity conservation. All the regulations that are in use today, even if their origin was decades ago, are affected by the more general concern for biodiversity and conservation. Hence, except for the rules of order on specific fishing grounds that the fishers negotiate between themselves, all the other regulations are part of a regime of practices to achieve sustainability in the long term (Marine Resources Act, Section 7).
A 'third-order' cybernetic approach (Geyer and van der Zouven, 1991, Rhodes 1996), where the governing system/system-to-be-governed and the tools develop in concert, sees governance as evolving relations, not as fixed actors or systems. In this perspective, Fig. 1 does not depict a stable governing structure, but the flow of interests, actions, and information. In such a perspective governability cannot depend on how well the diverse management instruments (like closed areas) fit to a variety of social, physical, and natural processes, but on how well these devices convey information and actions that produce and stabilise a governing system/system-to-be-governed. A good example is Johnson and Pálsson's (2015) study of fisheries on Lake Winnipeg where an individual transferable quota (ITQ) system in a specific institutional setting seems to have enhanced governability, because the stakeholders and governors perceive them as functional, despite the problems they also create. In this case, the ITQs translate governmentality into governability. Another example is Høst's (2015) analysis of the use of market mechanisms in Denmark where the conclusion may be that too little effort is invested in trying to understand how management tools change the world. The tools make the systems governable, but the outcome may be unexpected. The Interventions for Effectivity, Interventions for Equity and Fairness, and Interventions for Conservation and Sustainability translate the sea into spaces for specific behaviours that allow for governing and to-be-governed. An evolving acceptance for a belief in governing and the use of concepts, methods, and instruments is exactly what governmentality is about. The outcome of this governmentalisation is governability. Hence, governability is the effect of both governing and being-governed processes. Governability depends on governmentality, but governmentalisation and governmentality depend on consensus about the governable objects, the subjects-to-be-governed, and the use of interventions. Thus, governability is not unveiled through an analysis of inherent and constructed properties, but something that grows out of the use of governing instruments, systems design adaption, and learning. We make the world governable by governing (Johnsen 2014, Jentoft and Johnsen 2015).
All regulations do more than just regulate. The regulatory instruments are in fact performative (Steinberg 2001, Callon et al., 2007, Holm and Nielsen 2007, Høst 2015). They are political tools. To govern the sea implies that constructions, practices, and enactments have to be controlled and directed, but we must acknowledge that we use performative interventions and instruments that convey several objectives, meanings, norms, and directives for practices for how the world should be. When the instruments direct people's behaviour, people also start to act in new ways that create new realities and that in turn may require new governing interventions.
In Norway, the governance system copes with the need for complicated technical regulations, with more self- regulation (Johnsen et al. 2009b, Johnsen et al., 2009b, Johnsen 2014). To detail-regulate gear rigging and vessel parameters requires a capacity to control. Hence, the authorities leave technical decisions to an increasing extent to boat owners. Compliance with the spatial regulations seems to be high in Norway (Additional file 1: Box S1). With more self-regulation, spatial measures, which are quite simple to enforce with new technology, may increase in importance in the future. VMS tracking is already in use in Norway, and in some European fisheries there are trials with video recordings of the fishing operations. Such instruments are easy to combine with the use of simple spatial measures.
Conclusion—Spatial regulations for policy and as policy
The spatial interventions may not always produce what they are anticipated or expected to do; still they change the world. They also establish new relations that in the next round are necessary to govern. The interventions presented in the left part of Fig. 1 are therefore not neutral tools taken from a neutral toolbox that aim only towards regulating specific behaviour. As I have described, when the technologies of power (like modelling and mapping of spatial and ecosystem properties) related to the Interventions for Effectivity, the Interventions for Equity and Fairness and the Interventions for Conservation and Sustainability are set in motion, they contribute to configuring and reconfiguring the relationships of the governing system and the system-to-be-governed (Johnsen et al. 2009b, Johnsen 2014, Frangoudes and Garineaud 2015). The Law of Order did not only create order, it protected society, class structure, power, and property. The Free Law reintroduced freedom and equity. The fjord-lines protect coastal cod, but they also protect small-scale fjord fishers from competition and create order near shore. The interventions are performative tools that impose policy and have comprehensive societal effects. The quota regime cannot solve problems of order or regulate behaviour and power on the fishing ground. The spatial regulations in their various forms fill this purpose. They are part of the larger resource governance regime, and they meet concerns that other elements in the regime cannot handle. Therefore, the story about spatial regulations in Norway is not only about regulation for achievement of political objectives but also about regulations as policy. The interventions are not primarily technical: they are political. Hence, the interventions are engineering tools, used to engineer the world so it becomes governable. Governability then is not a capacity and a quality that sits in the governing system or a property of the system-to-be-governed, but the outcome of the construction process that construct both a governing system and objects 'to-be-governed'. Governability is a capacity to create the belief in images, models, and interventions that we think may lead towards the wanted objectives. Therefore, this story about spatial management is all about how power comes into existence, how tools like Interventions for Effectivity give power to some and not to others, how Interventions for Equity and Fairness can alter power relations, and how Interventions for Conservation and Sustainability can move power from social and political processes to experts. The story I have told is about how we politicise and governmentalise the sea and how we use the tools to construct the sea space to trigger societal effects. It is evident from the instruments I have studied that there will always be politics involved. There are no pure technical regulation tools. The key to understand the politicised sea is through examination of the processes and tools to identify what assumptions and objectives they come with and how they lead to governmentalisation that produces governability. In the future, climate-change science may very well contribute to new expansions and constructions and introduce new relations to govern. On the other hand, other narratives may become important, this we cannot know; but insight into the processes will help us understand what is happening.
By studying what happens in the fisheries, we can learn something about governance, governability, and governmentality that can be useful in other parts of society. Good governance requires that we understand what the management instruments do, and therefore these instruments must be scrutinised so we become aware of the wider effects, benefits, and risks connected to them. We need to ask why we want to govern, if we want to be governed, and how we will be governed. By asking these questions, we become aware of how governance works and we become reflexive about the processes that turn us into governable citizens.
Declarations
Acknowledgements
Research assistant Trine Holm Larsen helped me to systematise and analyse the many different spatial regulations in Norway. Thanks to Charles Mather, Arthi Stridar, Johnny Stevens, Signe Sønvisen, and the people who commented on my paper and presentation at the Governmentality Panel at the Mare Conference in 2015. Thanks also to the two anonymous reviewers and the editors of Mast for their useful comments. I would also like to thank Proof-Reading Services for copy-editing.
Funding
This article is based on data from the project Konsekvenser av. friere redskapsvalg i norske fiskerier, project number 900535, funded by The Norwegian Seafood Research Fund (FHF). The Norwegian College of Fishery Science at UiT, The Arctic University of Norway has supported the writing of this article. The publication charges for this article have been funded by a grant from the publication fund of UiT, The Arctic University of Norway.
Availability of data and materials
The main material is referred to and presented in the literature list or the endnotes. An excel sheet with more detailed information about the spatial regulations will be provided upon request.
Ethics approval and consent to participate
The article is based on document studies. The references made to fieldwork and observations refer to observations and interviews made under full consent from the informants. No personal information is used or presented in this article. The author has followed the Guidelines for Research Ethics in the Social Sciences, Humanities, Law, and Theology.
Consent for publication
Not relevant.
Competing interests
The author declares that he/she has no competing interests.
Publisher's Note
Springer Nature remains neutral with regard to jurisdictional claims in published maps and institutional affiliations.
Open AccessThis article is distributed under the terms of the Creative Commons Attribution 4.0 International License (http://creativecommons.org/licenses/by/4.0/), which permits unrestricted use, distribution, and reproduction in any medium, provided you give appropriate credit to the original author(s) and the source, provide a link to the Creative Commons license, and indicate if changes were made.
Authors' Affiliations
(1)
Norwegian College of Fishery Science, UiT-the Arctic University of Norway, Tromsø, Norway