Governing the fisher body – safety as body-politics and fisheries governance
Signe Annie Sonvisen

1

Email author

,

Trine M. Thorvaldsen

1 and

Jahn Petter Johnsen

2
Received: 15 November 2016
Accepted: 26 April 2017
Published: 12 July 2017
Abstract
Body Mass Index (BMI) is not only the prevailing tool used for defining and diagnosing obesity, but it is also a tool that intervenes into fisheries governance, and into fishers' lives and bodies. All fishers on board vessels over 100 gross tons (GT) must hold a seaman's licence; too high a BMI may lead to a "loss-of-licence" and the inability to undertake their occupation. From a governmentality perspective, this paper discusses the use of the seaman's licence and explores how BMI may be an instrument in fisheries governance. We examine how safety policies link to storylines around health and obesity to produce healthy and safe fishers, and how this in turn links to the overall objective of governmentality: to produce productive labourers (fishers). We explore the multiple materialities of the BMI by looking at Norwegian fisheries' safety policies from a Foucauldian perspective and question the wider implications of a safety policy focused on BMI and obesity.
Keywords
BMIFisheriesFisheries managementSafetyGovernmentality
Introduction
On Friday 3
rd
January 2014, Tom, a 52-year-old fisher, was sailing through the Lofoten Islands with his fishing boat "Bjørnsandgutt", when tragedy almost struck. On the way to deliver that day's catch, passing through a narrow strait, there was a sudden thud. "I slowed down, but there was a current. I was not sure what I hit, because it was pitch-black, but it was probably a marker on a rock". The situation got critical when the boat started to take-on water. While putting on his survival suit, Tom notified the closest Joint Rescue Coordination Centre, which summoned the search and rescue (SAR) vessel. Then, water started to pour in at the stern, causing a floating plastic tank to block the door of the wheelhouse. He was trapped. "There were a few seconds when I thought it was over. Then I saw a small window in the front and was able to knock out the glass and escape. How I got through that narrow window, I still don't know", he said. The boat slowly sank while he waited on top of the bow. This is where the SAR vessel found him, cold and exhausted. "Just before I had to let go, I saw the lights of the SAR vessel. I threw myself into the water and two-three minutes later I was picked up". Even though it was a scary incident, he wants to keep fishing; but emphasises how important safety is at sea. "One shall not ignore safety. I am happy to make it home", he said (as seen in Pedersen
2014
) (Fig.
1
).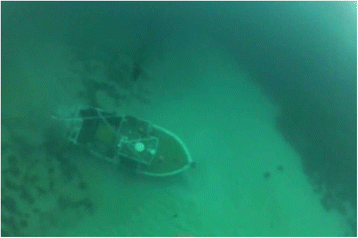 This story illustrates several things. First, the personal risk for those involved in fishing. Statistically, fishing is the most dangerous occupation in Norway, with the majority of fatal accidents occurring in small-scale, coastal fisheries (Aasjord et al. 2012). Second, it shows that taking precautions is essential if fishers are to make it home at the end of the day. Third, due to his escape through a small window, the story links body size to safety at sea (which we will return to).
Due to the risks of accidents and the high rate of fatalities in fishing, authorities and local communities are increasingly focused on the safety of fishers (Rapp 2010, Antonsen and Andersen 2011; Stortinget 2002; Dagbladet 2002). As a result, in recent years, a range of governmental risk management measures – including regulation, control, training and information campaigns – have been implemented (Thorvaldsen 2015). One particular safety instrument is the seaman's licence, with a specific requirement for Body Mass Index (BMI1). This regulation applies to fishers over 18 years of age working on boats larger than 100 gross tons (GT)2, or fishing offshore and being at sea for more than three days (NFD 2014).
BMI is used to measure physical condition and health, at both individual and population levels, and is a driver of national and international anti-obesity policies (Evans and Colls 2009; Helsedirektoratet 2010). In 2009 and 2010, 511 and 450 seamen lost their seaman's licences, respectively (Rapp 2010; Antonsen and Andersen 2011). The most common reasons for loss-of-licences were: diabetes, cardiovascular disease, high levels of cholesterol, high blood pressure and overweight (Exsto 2014).
Although this regulation does not apply to the smallest coastal vessels, it presently affects a large number of fishers, and has the potential to affect even more fishers. A 100 GT coastal vessel is currently around 20 m. Vessels over 20 m account for about 55% of full-time fishing employment in Norway, while vessels over 15 m account for about 70% (DoF
2017b
). Similarly, a representative survey among fishers from 2015 showed that over 83% of crew worked on vessels over 20 m and 90% on vessels over 15 m (Sønvisen et al.
2017
)
3
. However, coastal vessels are increasing in size. In 2008, regulations went from a maximum length restriction for coastal vessels of 28 m, to a maximum cargo hold restriction of 500 m
3
; this increased the length of coastal vessels (Standal et al.
2016
). In addition, due to technological advances, the volume of the coastal vessels has increased. For instance, the coastal vessel
Thor Arild,
built in 2015, is 14.97 m, which is shorter than a similar vessel built in the 1960s, but almost five times the size in volume (Fig.
2
). Whether a vessel is above or below 100 GT is therefore a matter of design. Hence, it is likely that fishers who are currently working on smaller vessels will be subject to increased safety regulations in the future (Fig.
3
).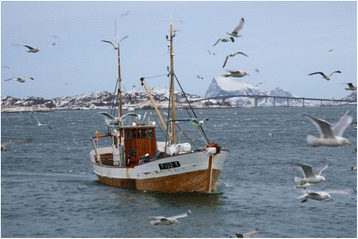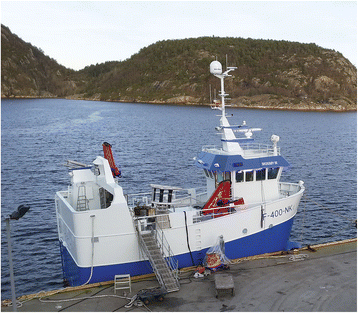 In light of the story about Tom, requirements regarding body size may seem reasonable in relation to safety. However, given the fisheries political objectives in Norway to downsize and restructure the fishing fleet, we question the role of BMI. Is the body-politics that the BMI exercises only a policy directed towards the fishers' bodies or does it also contribute to making the fisheries more governable in general? Thus, we examine how BMI constitutes a regulatory mechanism whereby knowledge of the fisher population's BMI not only provides the power to reduce the risk of accidents and improve safety, but also serves other purposes in fisheries management. With the expansion of health, safety and environmental (HSE) regulations in the fishing fleet and with technological developments leading to ever-increasing vessel sizes, more fishers will be required to hold a seaman's licence and more will be subject to body-politics. Thus, we explore how risk management, in the form of BMI, can be a part of the general fisheries management puzzle.
Method
This article uses a discourse analysis inspired by Hajer (1995). Lessa (2006:285) summarised Foucault's definition of discourses (Foucault 1972) as "systems of thoughts composed of ideas, attitudes, courses of action, beliefs and practices that systematically construct the subject and the worlds of which they speak". For our purpose, discourses are sets of statements, arguments and practices about body weight, BMI, health and safety. Discourses shared across networks of actors from different spheres, in which actors use the same repertoires to frame their arguments, are what Hajer calls "storylines". Like discourses, storylines are not restricted to examining the meaning of words or phrases, but also include the meaning that different actors attach to them. What is of interest is the embeddedness and reproduction of storylines among members of a particular group of actors (coalitions). Through shared storylines, coalitions define problems, position actors, distribute responsibility and offer solutions to a problem (Hajer 1995). A powerful storyline is one that is widely adopted and perceived as a correct translation of a phenomenon and/or institutionalised into specific institutional arrangement (Späth 2012; Næss 2002).
Information used to produce storylines comes from a number of sources. First, we used official documents such as regulations, green papers and guidelines from health and safety authorities and fisheries authorities (i.e. FAO NA, Helsedirektoratet 2010; NOU 2006:16, Participation Act 2008; Rikstrygdeverket 2006; WHO 2014). Of particular importance is the regulation pertaining to medical examination for workers at sea (seaman's licence) (NFD 2014). Second, research literature on health, obesity and BMI was useful in linking the fisheries' safety discussions to body-politics storylines outside of the fisheries (i.e. Evans 2006, Evans and Evans and Colls 2009; Hacking 2006; Jensen and Laursen 2011. Third, a wide range of materials from formal and informal sources were used, such as fisheries newspapers, blogs and net discussion forums. There are two main Norwegian fisheries newspapers, Fiskeribladet and Kyst og Fjord, but national newspapers also occasionally write about fisheries issues; hence, Aftenposten, VG and Dagbladet were also used for gathering data. Discussions that surfaced in the wake of newspaper articles on the issue of marine or maritime health and safety led us to blogs and net discussion forums through direct links.
Finally, seven interviews were conducted with fishers in the deep-sea fleet (2) and the coastal fleet (4), as well as 1 representative for the Norwegian Fishermen's Association. The interviews were conducted in concurrence with fieldwork in another research project dealing with fisher's health and wellbeing (Thorvaldsen et al.
2016
). See Table
1
for an overview of informants.
Table 1
Overview of informants used in in-depth interviewsa
| Informant | Region | Type fishery | Size of vessel |
| --- | --- | --- | --- |
| Coastal fisher 29 (crew) | Northern Norway | Coastal | under 15 m |
| Coastal vessel owner 28 | Northern Norway | Coastal | under 15 m |
| Coastal vessel owner 30 | Southern Norway | Coastal | over 15 m |
| Coastal vessel skipper | Northern Norway | Coastal | over 15 m |
| Ex. Crew longline | Western Norway | Deep-sea | over 15 m |
| Ex. Trawl skipper | Northern Norway | Deep-sea | over 15 m |
| Representative for NFA | | | |
Through the analysis of collected material, we identified storylines related to the BMI. In particular, we identified rhetoric, statements and arguments about weight, health and safety in fisheries; specifically those related to the BMI.
Although, the context of this paper is Norwegian, the results will also be applicable to other industrialized fisheries nations that use various instruments to manage the conduct of fishers, i.e. CCTV (see Kindt-Larsen et al. 2011).
Discussion: disciplining the fisher body – managing risk and governing fisheries
In the western health discourse, the obese fisher is constructed as unhealthy; in the safety discourse, the obese fisher as unsafe; and in the economic discourse, the obese fisher as less productive and irrational – thus, always in need of correction. Table
3
below summarises the body-politics and governance of fishers, and shows how the modern welfare state seeks dressage of individual bodies to control its population through BMI.
Table 3
Governance and dressage of fishers' bodies and populations
Level

Form of visibility

Episteme

Techne

Intervention

Forms of identity

Individual

High BMI

High BMI leads toincreased risk of sick leave

Seaman's licence and requirement to maximum BMI

Management of individual health through (i.e. exercise and diet)

Healthy fisher

High BMI leads to increased risk of accidents

Management of individual safety (i.e. exercise and diet)

Safe fisher

Population

High BMI

High BMI leads to higher levels of sick leave and lower productivity

Seaman's licence and requirement to maximum BMI

Management of productivity by securing a heathy and safe population.

Economic rational fisher

High BMI leads to higher risk of accidents and lower productivity
Self-discipline and regulation are active ingredients in successful body-politics. At the individual level, governmentality shapes the conduct of individuals (diet and exercise), the success of which lies in the internalisation of a safe fisher's conduct. At the population level, governmentality secures a productive fisher population through the seaman's licence and BMI requirements, and ultimately the internalisation of the economic rational fisher.
In a governmentality perspective, the BMI is a practical instrument for the surveillance of bodies and at-risk populations. By minimising risk of death and injuries through regulations, governments are able to control the fisher population and secure a more productive fisher and fishing fleet. The BMI becomes a hurdle needed to pass to become or remain a fisher. Hence, the BMI becomes a part of a new configuration of controls applied to the fisher in which "contemporary bio-politics is risk politics" (Rose 2001:2).
Johnsen (2004) showed how modern technology redefined the fisher, as knowledge and learning was increasingly woven into technology. In this perspective, BMI actively participates in what Foucault calls body-politics and redefines the fisher by defining the optimal physical parameters of a fisher. However, BMI not only redefines the physique of the fisher, it also affects the mentality of the fisher, as it constructs a fisher for whom it is rational to be healthy and safe and for whom it is rational to optimise economic performance. The argument is that control of the individual is good for the person, through improved health and safety, while simultaneously being good for the nation through improved productivity and lowered social costs. "What is good for the fishermen, is good for the nation" (Hersoug and Rånes 1997).
We could argue that, given the physical and mental strains of the occupation and the relatively low level of sick leave among fishers, such rationalities are already present and the mechanisms of governmentality have succeeded. This is partially true. For vessel owners, working for themselves or crew remuneration based on catch shares, absenteeism has direct economic consequences. Despite being entitled to sick leave pay from day one, the difference between sick leave pay and income from harvest may be significant. Presenteeism is therefore an economic rational conduct of fishers, but is also a social variable related to team spirit, loyalty and expectations of working hard; particularly on board larger vessels (Coastal vessel skipper 2014). Thus, other mechanisms are also at play.
Moreover, although the seaman's licence is mainly obligatory for vessels over 100 GT, a number of elements may lead to more fishers being subject to the seaman's licence. As the majority of fatal accidents occurs on smaller coastal vessels, it is a paradox that these vessels are exempt from the regulation (ref Fig. 5 above). In recent years, however, there has been increased focus on the safety of fishers on smaller coastal vessels through inspections, regulations and documentation of compliance with safety regulations through safety management systems (Thorvaldsen 2015). In 2014, the NMA introduced a new safety regulation for vessels under 15, with stricter requirements regarding construction and equipment (NMA 2014).
Larger vessels and vessels fishing farther offshore will also increase demands on safety. Present fisheries policies; including restructuring policies, decommission regimes and liberalization of length restriction; have led to fewer and larger fishing vessel (Standal et al. 2016). In 2008 there was 6,785 fishing vessels, which had declined to 5,939 by 2014. For vessels under 28 m this entailed a decline of 13%, whereas for vessels over 28 m there was an increase of 12% (DoF 2017a). In addition, climate change leading to migration of fish stocks may force coastal vessels farther out to sea6. In the end, increase in size combined with changed patterns of operations, could mean that more fishers will be subject to body-politics.
Additionally, BMI tends to increase with age. Thus, given "the greying of the fleet" (Sønvisen 2013), an aging fisher population may be at danger of a loss-of-licence. Consequently, if the seaman's licence and its BMI requirements were to apply to smaller and more vessels, and if these requirements were to be strictly applied, fishers can be forced to quit their job and sell their fishing vessels7 – with consequences for the individual and the family. Furthermore, as fisheries regulations allows quota mergers and decommissioning and when fishers quit vessels tend to be sold out of the community (Røst kommune 2016, Olsen 2014, Helgelands blad 2012), the seaman's licence and the BMI may also have consequences for local fleets and communities.
Conclusion
To return to our question: given the political objectives to downsize and restructure the Norwegian fishing fleet, what role does BMI play? Restructuring of the fleet leads to fewer and larger fishing units subject to stricter requirements regarding health and safety, and more fishers being subject to the seaman's licence. Although the seaman's licence and BMI requirements shall improve the health and safety of fishers, it also leads to a loss-of-licence for some. This brings us back to the story of Bjørnsandgutt and Tom. Even though regulations pertaining to the seaman's licence and BMI requirements do not presently apply to fishers like Tom, they may in the future. We shall not speculate whether or not Tom would be able to obtain his seaman's licence, but some fishers in this fleet segment would have challenges receiving their licence.
Then, the question becomes does BMI play a more subtle role than just regulating health and safety? Yes, we argue, as the BMI produces governmentality. The BMI regulation is part of a steadily more comprehensive governmentalisation process in the fishing fleet and it is not likely to stop. As the story of Tom illustrates, fishers on vessels under 15 m are exposed to certain risks. In a situation that requires further restriction to fishing access, safety may be used as an argument to implement a regulation such as BMI – primarily, of course, as a health and safety regulation, but with direct implications regarding who is and who is not allowed to fish.
Moreover, by contributing to control of individuals, the seaman's licence and BMI contribute to control society. It works as a localiser and connector for observation and governing, similar to how indicators of fish biomass, environmental or economic indicators monitor, control and surveillance fishers' performance. BMI acts directly at the individual level and it is the individual fisher who will be sanctioned if the self-control becomes too weak. It becomes an element in the cybernetic fisheries governance toolbox for the production of rational and sustainable fisheries, which depends upon productive subjects. Hence, an obese fisher losing his seaman's licence has failed to become such a subject in terms of his own health and safety, but also in relation to the fisheries, the coastal population and society.
The question is if this dressage goes too far, the BMI rule may turn able fishers into disabled fishers, as the fishers cannot exercise their occupation. Instead of producing healthy, safe and productive welfare state citizens, which is the intention of BMI regulation, the regulation may also turn fishers who have few other work opportunities into unproductive individuals dependent upon welfare. In that case, the BMI regulation does not contribute to fulfil the fisheries political objectives of contributing to employment and settlement in fishing communities. Perhaps it is time to reconnect localisers and connectors again, not to produce panoptic control, but to widen the scope and see humans and society as something other than numbers and quantitative indicators.
Footnotes
1
BMI is a person's weight (kg) divided by the square of their height (m).
2
Gross ton (GT) is the nonlinear measure of a vessels overall internal volume (www.wikipedia.org).
3
There are about 4,600 active vessels (with registered catch) and 9,500 registered fishers; hence, a large number of fishers are also vessel owners. Still, only 1,750 of these vessels are year-round operating vessels; consequently, owners of small coastal vessels also work as crew. Registration in the Official Fisher Registry (Fiskarmanntallet) is mandatory for boat owners, but not for crew (DoF 2017b).
5
The average weight of young males entering the military services in the year 2000 was 72.8 kg in 2012 this number had increased by 1.1 kg (SSB 2013).
6
A recent study found that, due to climate change, fish communities in the Barents Sea are expanding northwards (Fossheim et al. 2015).
7
A fishing vessel owner in Norway has to have income from fishing with his/her specified vessel. The vessel cannot be rented out, but can be operated by others, as long as the owner has the main income from fishing. However, according to the Directorate of Fisheries' profitability surveys, fishing vessels under 15 m normally have small profit margins and the owner has to work on his or her vessel. Thus, if the owner cannot work on board, he or she is forced to sell.
Declarations
Acknowledgment
We would like to thank the reviewers and participants at the Mare 2015 panel Mechanics and Technologies of Power in Marine Geopolitics for valuable comments that have contributed to improving this article greatly. We would also like to thank SINTEF and Norwegian College of Fisheries Science for funding the finalization of the article.
Funding
This article has internally funded by SINTEF and at the Norwegian College of Fishery Science.
Authors' contributions
The main author (SAS) was responsible for the design of the article, and coordinated the work with the first draft. She drafted the theoretical framework, the methodological section, as well as discussion and conclusion. The second author (TMT) has contributed with collecting data, drafted the parts related to safety regulations and behaviour, as well as part of the discussion. The third author (JPJ) launched the idea that BMI could be analysed as a fisheries governance instrument and has contributed with input to context, particularly issues dealing with fisheries management, as well as to the discussion and conclusion. All authors have critically reviewed text written by the others and have contributed to writing and editing all parts of the document. All authors agree with the analysis and conclusion.
Competing interests
The authors daclared that they have no competing interests.
Publisher's Note
Springer Nature remains neutral with regard to jurisdictional claims in published maps and institutional affiliations.
Open AccessThis article is distributed under the terms of the Creative Commons Attribution 4.0 International License (http://creativecommons.org/licenses/by/4.0/), which permits unrestricted use, distribution, and reproduction in any medium, provided you give appropriate credit to the original author(s) and the source, provide a link to the Creative Commons license, and indicate if changes were made.
Authors' Affiliations
(1)
SINTEF Ocean, Trondheim, Norway
(2)
Norwegian College of Fishery Science, University of Tromsø, Tromsø, Norway