Conflicts in some of the World harbours: what needs to happen next?
Maritime Studies
2016
15:10
Received: 29 December 2015
Accepted: 9 June 2016
Published: 19 August 2016
Abstract
Harbours are a focus of intensive and diverse activities and thus have a high potential to become centres of conflict between users. Reviewing the multiple uses associated with harbours provides important insights into maritime communities and the management of conflict. In this paper, seven international, multi-disciplinary groups provide their expert synthesis of individual harbours. After a detailed discussion experts from Sydney, Qingdao, Vigo, Auckland, Jakarta, Crete and Plymouth synthesised and shared their harbour's characteristics, user conflicts and how such conflicts have been researched and managed. The paper addresses an omission of "conflict" in most of the research literature about harbours, and ports and scopes a research agenda that includes integration, risk appreciation and other approaches to these increasingly contentious maritime environments. This process provided an opportunity for global researchers to share the ways harbour conflicts are mitigated and the kinds of adaptations that are possible.
Keywords
Land SubsidenceVoluntary Geographic InformationIntegrate Coastal Zone ManagementRecreational BoaterTamar Estuary
Introduction
Harbours, the lands and water around constructed ports, are a scarce resource and the focus of a variety of uses and users of land and sea. Harbours are critically important social and environmental places imbued with cultural meanings and complex values that attract diverse users and generate conflict. Harbour users seek to access a common pool of natural resources for different ends so there are often conflicts of interest.
There is a gap in the literature of harbours and port-related conflict research that has limited the research and adoption of new solutions. Generic coastal conflict research (Stepanova and Bruckmeier, 2013) does contribute to understanding harbours, however studying the ways that conflicts are solved in a specific harbour shows something important about the harbour users themselves and their situation. The situations, values, actions, and decisions that lead to conflicts in the harbours known to the experts in this paper provide insights and opportunities for further understanding and improved management. Using existing knowledge (including traditional and scientific research), and knowledge of the institutions, governance, markets, legal frameworks, spatial zoning, suasion and other measures provides a useful synthesis. How conflicts are resolved shows important economic, social and environmental characteristics of harbours and identifies where research opportunities exist and this is the focus of this comparative synthesis paper.
The explicit omission of "conflict" in most of the research literature about harbours and ports (Ng et al., 2014), is interesting and stands in contrast to other literature about commons and natural resource conflicts such as in fisheries, forestry and air pollution (Dietz et al., 2003). Perhaps the research gap is linked to the complexity of harbours and the inability of single disciplines to identify, understand and manage conflicts in harbours. Single discipline approaches sometimes can cauterize the problem with a specific 'fix', such as heritage, or zoning uses out of the area or optimising for a specific set of port efficiency measures. Yet the enduring and emerging complex problems appear to require involvement of multiple disciplines and stakeholders. Approaching harbours from different perspectives means that engineers, ecologists, economists and other researchers have realised the need to integrate their knowledge in order to understand and provide actionable knowledge. In this paper researchers' integration of human and biophysical science perspectives from case studies of conflicts in world harbours shows that options do exist for opening-up to new modes of science and knowledge production.
Over the last three decades the failures in Integrated Coastal Zone Management (IZCM), of which harbours can be an example, can be partly attributed to ICZM's inability to resolve conflicts (Stepanova and Bruckmeier, 2013). Avoiding or postponing natural resource management conflict often relies on; allaying public concern using strategic plans, protected areas and environmental impact assessment, public assurances (Jacobson et al., 2014) funding research that do not negatively influence policy or management, applying strong top-down strategies, spatial planning tools or transferring governance to market-like mechanisms. Research can open-up some opportunities for systemic change. Deliberative and discursive approaches that enhance collaboration are more important when and where there are knowledge gaps, complexity, uncertainty and rapid change (Bammer, 2013). By these criteria, harbours are a focus of contest and provide a new kind of research opportunity in natural resource and environmental management more broadly.
The literature about harbour conflicts
Researchers studying fisheries, forestry and other natural resources find recurring patterns of conflict around the world (Martinez-Alier,
2009
). Given that harbours and ports, those parts of harbours modified by logistic facilities, are the focus of so many users with different interests the authors of this paper were surprised that harbours have so few conflicts reported in the literature. The conflicting and dynamic values projected on harbours have not been subject to as much research as other places. Resources such as coastal and urban areas (for example the Solutions to Environmental Contrasts in Coastal Areas (SECOA) program with outputs such as Morf et al.,
2013
) have shown the promise of directly addressing conflict through research. No papers reporting research on harbours and their conflicts or syntheses were found, yet there are good examples of coastal conflict literature (for example SECOA's synthesis is published by Stepanova and Bruckmeier,
2013
). Charlier and Vigneaux (
1986
) observed a general pattern that:
It has been a common occurrence, over the last decades, for conflicts and competition to develop, among existing and potential users of the coastal zone. An agonizing choice has been forced in many instances upon governing bodies, even private enterprises, involving frequently considerable economic, social and ecological impact.
Green and Penning-Rowsell (1999) described why conflict is inherent from coastal systems and Biliana Cicin-Sain's (2003) comparative analysis of coastal conflict is seminal. The methods used to describe coastal conflict, such as the matrices used to compare NW Europe estuaries (Cutts and Hemingway, 2013), have now been widely applied. Stepanova and Brukmeier (2013) provided the most useful review of coastal conflict literature and identified four theoretical concepts; environmental conflict (Homer-Dixon, 2010), resource conflicts caused by scarcity in distribution, Malthusian depletion conflicts, and common pool dilemmas. In a review of European coastal conflicts, Stepanova (2014) showed the potential of knowledge integration and the necessity of conflict resolution in sustainable resource management. Yet conflict research in harbours has not been on either the policy or the research agenda.
Harbours are intense concentrations of users who compete and collaborate and both of these require information and can benefit from new knowledge and research. For example, Elinor Ostrom's (governance) framework of ownership, allocation, distribution and exchange of resources (Dietz et al., 2003) appears promising and harbours may be an ideal test environment for adaptive management approaches. Harbours may serve to examine power, different values, and knowledge that are seen as hindrances to co-operation in other environments.
Harbours have particularly difficult governance problems connected to intractable management problems. Normative questions about reducing resource damage, sharing and justice are controversial in these highly modified ecosystems. While more science is both necessary it is also insufficient for improving harbour governance. Proposals for adaptive management often seek to reframe the intractable problems and conflicts as simpler information deficit and cooperation problems rather than competition problems. Yet the dominant paradigm, especially for innovative ports, is to achieve commercial, national and corporate interests and some sustainability or green results (Acciaro et al., 2014).
A recent synthesis of 28 conflict cases in EU coastal environments is particularly useful (Morf et al., 2013), because it provided typologies of conflict, detailed analyses and generated forecasts of conflict. The authors found that coastal conflicts involved entities (individuals or collectives) that want to make use of resources - either directly or indirectly - and that an important driver of conflict was the perception that one user could benefit by excluding others (Reed et al., 2009). When more than one use was involved, there was generally conflict. Harbours are scarce resources, a place of safety that offers spatial and temporal advantage to many uses, so conflicts that relate to perceptions about incompatible goals and interference between users are inevitable. These perceptions are framed by culture, history, knowledge and institutions so the management of harbours may benefit from a mixture of existing and new knowledge.
Cutts and Hemingway (
2013
) suggested six kinds of information necessary to understand and manage estuaries and it seems reasonable to extend these to harbours:
1.

users and uses of the system (legal and illegal, desirable and undesirable);

2.

sectoral areas that most require management (or improved management);

3.

spatial areas that most require management (or improved management);

4.

synergies that occur and how they might be expanded or better used; and

5.

areas where conflict is less than expected (e.g. systems are in place that may be particularly good at managing multi-user issues); or

6.

areas of unusually high conflict (needing further research to avoid management failure).
Coastal and ocean-use planners often use conflict matrices (e.g. Fig.
1
) to organize information about resources and to identify incompatibilities of uses. This is followed by the development of a spatial management (zoning) plan in an effort to avoid conflict or formally allocate uses through spatial and temporal restrictions or market-like instruments. Additional information (and more complexity) can be incorporated into models and multi-criteria approaches to inform stakeholders and decision-makers. These have been used in European coastal conflict transformation (Stepanova and Bruckmeier,
2013
) and making these information management tools for communities and decision-makers were a highlight of the SECOA program. However, there is a danger that these matrices and tool become overly complex such that they fail to engage stakeholders. Therefore ensuring a trade-off between sufficient complexity to describe and explain conflicts effectively, while remaining interpretable, engaging, and supporting planner decision-making in conflict resolution should be of primary consideration when developing tools.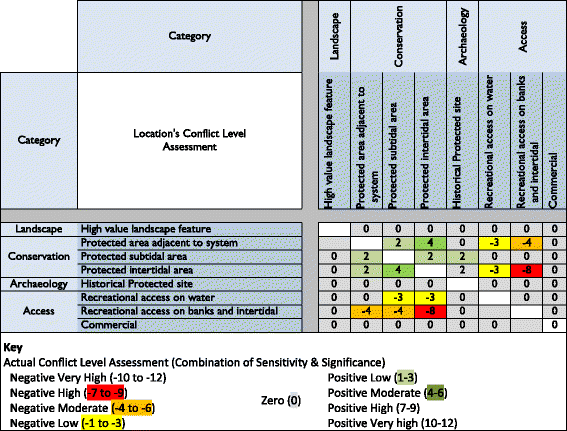 Method
To determine if the gap in harbour research that explicitly considered conflict was international, and if research contributions could be helpful, we used a combination of workshops and follow-up discussions involving multiple experts. We gathered case studies of conflicts in seven selected harbours. Table
1
provides some of the characteristics of the harbours to contextualise the variety of harbours considered in this synthesis. The aim was to briefly provide context for future research considerations and to provide insights into the nature of harbour problem-based research that could potential support adaptive governance or other management approaches. The authors shared their insights on the important or interesting conflicts that have emerged and how they were resolved.
Table 1
Summary of selected harbour characteristics
Greater metropolitan area

Bio-physical characteristics

Social & economic indicators

Population (M)

Density (km−2)

Type of estuaryb

Area (km2)

Catch-ment (km2)

Tidal range (m) b

Biodiversity (sp. no.)

GDP of city (US$ B)

Vessel visits pa

Total trade (tonnes, M)

Total trade (US$ B)

Imports (US$ B)

Exports (US$ B)

Sydney, Australia

4.63

372.4

Large, Drowned river valley

50

500

1

>3000

74

540

4

27

45

10

2000

Ria de Vigo, Spain

0.4

1113a

Drowned river valley

179

751

2

>3000

7.7 (2012)

1540 (2014)

4.1

13.1

Not available

7.2

Qingdao, China

9.0

1100

Large Shallow gulf

362

>6000

4

>513

129

Not available

468

157

77

80

3900

Jakarta, Indonesia

30.5

9500

Large, Coastal Breakwater

514

>2,000

1

>700 (fish, echidnoderms and molluscs)

143.67

17,800

45.7

64.85

49.04 (Jan-Jul 2014)

15.81 (Apr-Jul 2014)

Plymouth, United Kingdom

0.3

3,459.5

Small, Drowned river valley

64

2,295

5.9

~8,400

Not available

~1,500

2.1

14

Not available

4400

Auckland, New Zealand

1.6

2500

Large river valley

80

390

2

unknown

74.7

1600

4.4

26

16.8

9.6

Heraklion (Crete), Greece

0.30

444.6

None

0.87

684.3

~0

>300 (meio- and macrobenthos)

6.3 (2011)

2,629

0.23

Not available
This is not a systematic literature review, but an elicitation of information from researchers and experts from each harbour. The short description in each case reflects what the expert thinks is important about the harbour, the conflicts that exist and the way research, and knowing more about the harbour conflicts, might help more widely harbour managers and researchers.
This method discovered useful options for conflict management that are worthy of sharing and further exploration such as ecosystem and cultural mapping, strengthened resolve of government to enforce legal provisions, spatial planning, extra-national environmental and food quality standards and improved integration of research and knowledge management efforts. Each harbour made unique contributions and there was not evidence that new discoveries were declining with additional harbours being considered. Table
2
provides the highlights that each case makes to the overall understanding of harbours and conflict management. The method is necessarily exploratory. In a subsequent project, we hope to develop stand-alone case studies for harbours and further analyse the existing conflicts and the way harbours of the future could be informed by research.
Table 2
Contribution to researchers, managers and others from each case-study to the synthesis of harbours and conflict management
From

Researchers can learn

Managers can learn

Others can learn

Sydney

Biodiversity

Importance of legal standing, social licence, principled approach to planning, Relocation of old port facilities out of the harbour

Growing importance of aesthetic valuation

PPB contaminants

Relocation of old port facilities out of the harbour

Historical and natural values

Ria de Vigo

The importance of integrated responses to harbour issues in these highly productive environments.

Pressures of growth in hinterland and fisheries that threaten marine values and fail European directives.

Raft mussels provides an ecosystem service that relies on managing harbour users.

Qingdao

Capacity of land-based pollution receiving waters

Importance of integrated response to major challenges Including legislation and eco-compensation policies

Harbours in very rapid step-wise transition and from primary, secondary to tertiary industry production

Opportunities for large scale ecosystem restoration and construction

Historical values

Jakarta

pollution impact, social science opportunities and challenges

Social and cultural mapping and use research, principled approach to planning, massive infrastructure projects

Harbours in rapid step-wise transition and from primary, to secondary to tertiary industry production all at once

Plymouth

Monitoring of shallow rock and sand harbours with multiple values

Myriad of multiple heritage and legal measures are unusual compared to other harbours in this paper and reflect an active listing process in the UK.

A busy small working harbour of high international ecological value – juxtaposition of sustainable use vs. environmental protection

The high relative value of historical and natural including the history of mining and contamination

Auckland

Local Māori (Ngāti Whātua and 12 other iwi), the Crown and regional and territorial authorities that collectively manage Auckland Harbour and Hauraki Gulf are working together.

Heraklion

Monitoring of shallow rock and sand harbours

Intense use in a small harbour

Transition from state-owned to majority private ownership
Discussion
Each of the harbours in this synthesis contributes insights to harbours' conflict and management. Jakarta Bay, Qingdao's Jiaozhou Bay and Ria De Vigo highlight the difficult conflicts between land-based pollution and traditional fisheries. Plymouth and Sydney are dealing with the legacy of pollution while managing new user expectations. Auckland's governance system is reengaging with traditional owners.
In preparing this paper the authors reached a strong consensus: understanding conflict amongst harbour users through comparison shows that many of the patterns, conflicts, and threats are shared. Harbours geographically focus uses and conflicts of interest. There are new research opportunities to integrate existing conflict frameworks such as conflict matrices (Fig. 1) and other systemic frameworks, risk management, and more participatory approaches. Sharing this knowledge with the maritime community will improve research and management. The evidence elicited from experts shows that, to understand and manage conflict, requires knowledge of harbours that integrates the history of management, the values, powers and roles of conflicting agents and the dynamics of conflicts. Research done through synthesis of coastal zones case studies showed the power of explicitly considering conflict and transferring that knowledge to even more pressured environments (Stepanova and Bruckmeier, 2013).
The integration and implementation of research on harbours could be organised using the systemic driver-pressure-state-impact-response framework (Sekovski et al., 2012) because the framework appears to capture the key processes and be flexible enough to adapt to this additional aspect. This approach improves the understanding and emphasis on linkages, indicators and benchmarks, giving managers the confidence to manage undesirable environmental trends or situations (Jennerjahn and Mitchell, 2013; Knights et al., 2014; Knights et al., 2013) and opens opportunities for users to participate in and contribute to more of the strategic and operational decisions that dominate harbours.
Even in harbours where experts could find little expression of conflict the regulatory frameworks showed governance and power was used to achieve the apparent serenity and further work is needed on how latent conflicts could re-emerge. Comprehensive indicators, for use across the causal framework of Drivers, Pressures, States, Impacts and Responses (DPSIR), are required to enable users and their conflicts to be better understood by researchers and managers. These indicators need to be sensitive to changing conflicts in time and location and will help understand the marginal benefits of specific management activities.
Risk-based approaches (Knights et al., 2015) and management actions that could be developed and tested a priori (Piet et al., 2015) need to be further developed. Users of harbours appear to engage so intensively that management success could be achieved through a robust evaluation of threats. This could enable prioritisation and subsequently trade-off between those threats (Goodsir et al., In Press; Knights et al., 2014), rather than the overly confident applications of single-focus prescriptions.
Astles (2015) contributes an example of the risk management approach to Sydney Harbour that identified risks around stresses, ecological processes and gaps in the knowledge. She identified shortcomings in previous work that focused on ecological process risk and that generated a management response focused on statistical validity and monitoring rather than integration, actionable knowledge, education, and capacity building. Expanding consideration to humans and the ecosystem scales is fostered by integration, participation, ecosystem and DPSIR based management thinking.
The ability to cope and thrive with inevitable conflict requires advances in both natural and social sciences. Adaptive and innovative approaches (Dietz et al., 2003) to resolve conflicts borne of complexity (Berkes, 2006) are urgently needed. In harbours, where governments are likely be in the roles of developer, polluter, tax-collector, planner, protector and vendor, implementing stronger rules-of-law or market-like reforms tends to reinforce existing trends rather than solve long-term conflicts. The harbour case studies suggest that transformations and opportunities for adaptive government could occur in harbours where new knowledge becomes available, good leadership or volunteerism thrives, where a social licence is revoked or crises open opportunities.
The use of spatial management – the geography of exclusion zoning, marine protected areas and citizen-derived maps may be part of the solution. However over-reliance on one approach can lead to privatization or central government control and loss of community support. So community and self-regulation are also important checks to simplistic responses (Berkes, 2006). Centralisation (Plymouth) and privatisation (such as in the Harbour Heraklion) poses new complexities of ownership, governance and adaptive possibilities.
The sharing of insights between harbours by users and people seeking to manage the changing ownership of harbours would benefit from a global perspective. The importance of anticipating, mitigating, ameliorating and adapting to change are important functions for harbour-based research to inform and support. Building institutional and individual capacities to ensure desirable environmental, economic, social, and sustainable results is a serious test in these massively valuable and dynamic environments. The comparisons showed the nature of harbour investment and use indicates that international research groups are an appropriate way to promote understanding. We are also realistic that some argument and conflict is desirable.
The importance of knowledge gaps about harbours in both research and management alike suggests these are indeed fertile areas for on-going effort (Astles, 2015). There is a need for hard-edged analysis of impact where complex conflicts are managed to a resolution (finding a full and final solution) or adaptation (amelioration or mitigation). Although the environmental problems in harbours were substantial, none of the experts concluded the direction of trend or magnitude of responses were having the desired result. Most found particularly challenging situations for governance, for example the lack of enforcement of regulations was deemed a greater pressure than the lack of regulations. We think that this problem requires diverse participation. DPSIR provides a well-known holistic framework that can report the adequacy of responses. An adaptive or learning focus is likely to be essential in achieving more desired results in future.
Based on the case studies reported by the expert authors (Tables
1
and
2
), and the available parallel literature, we recommend that future research on harbours should be guided by an explicit awareness of conflict analysis. Future research and management should contribute to adaptive management of these domains;
issues that cross harbour-urban-marine-rural boundaries

complex problem management

understanding nested scales - geographically, temporally and administratively

enhanced quality of stakeholder engagement

power, asymmetries and relevance

uncertainties and learning

scenarios of desirable and undesirable futures
Future work, to develop the descriptions of port and harbour conflicts is needed and this can draw on SECOA dimensions of theme, actors, temporal involvement, phases of management, forums, strategies (exclusion, integration, nesting and prioritising) and management outcomes or outputs (Morf et al., 2013). Although we agree that better description precedes improved diagnosis and prescription of methods and treatment pathways (Morf et al., 2013) we are also aware the imperatives of harbour decision-making demands contemporaneous adaption of scientific research paradigms.
Conclusions
Harbours are the focus of uses that inevitably conflict yet there is a gap in research that informs managers about management options. In this research, there is consensus amongst the experts considering seven quite different harbours that conflict is an important characteristics of harbours. The role of harbours in surfacing the environmental and social systems and the intensity of different and often conflicting uses is not yet matched by research efforts to inform decision-makers, research investors, or researchers. Harbours are included in many coastal conflict analyses, but have not received specific attention to see if extending these coastal research and management solutions into harbours is valid.
This preliminary expert analysis of case studies shows harbours are sites of intense conflict and are less likely to be successfully understood and managed by single disciplinary projects or integrated coastal zone management approaches that exclude analysis of conflict. Further research underway will work with users to focus on shared desirable futures as people prepare for ongoing change in the world's harbours. Explicitly engaging in research about conflict and this first recognition that conflict is both characteristic of harbours and often an opportunity for engaging with different harbour users, sets a new foundational understanding for harbour-related research. Already research about the future of harbour conflict has directed attention to poverty and indigenous users and toward Asian and African harbours. Research using methods of scenario development, futures and participatory engagement are now underway in the World Harbour Project.
There is a worldwide opportunity to share insights and responses to conflicts in harbours to enhance the fair, sustainable, effective, and efficient use of them. It is an urgent challenge especially in rapidly developing harbours like Jakarta and Qingdao. Furthermore, this research synthesis identified in all harbours the challenge of engaging social sciences as researchers and stakeholders in the identification of problems and engaging in the research needed to resolve conflicts. Policies driving rapid development of harbours in this period of maritime globalisation, port privatisation (Ng, 2013) and the expanding maritime ambitions of nations all require urgent attention of researchers.
Declarations
Acknowledgements
This project was nurtured and supported by the World Harbour Project which is funded by The Ian Potter Foundation and The SIMS Foundation. This is a publication of Sino-Australian Research Centre for Coastal Management (SARCCM). Ma Yingie's and Stuart Pearson's contributions were supported by Social Science Research Foundation of Education Ministry of China, 2013JDPY01. The paper is improved by the suggestions of two reviewers.
Open AccessThis article is distributed under the terms of the Creative Commons Attribution 4.0 International License (http://creativecommons.org/licenses/by/4.0/), which permits unrestricted use, distribution, and reproduction in any medium, provided you give appropriate credit to the original author(s) and the source, provide a link to the Creative Commons license, and indicate if changes were made.
Authors' Affiliations
(1)
School of Physical, Environmental and Mathematical Sciences, University of New South Wales, Canberra, Australia
(2)
Coastal and Oceanic Zone Science and Engineering System Research Group, Faculty of Earth Science and Technology, Bandung Institute of Technology, Bandung, Indonesia
(3)
Agency for Marine Affairs and Fisheries Research and Development, Ministry of Marine Affairs and Fisheries, Jakarta, Indonesia
(4)
School of Law and Politics, Ocean University of China, Qingdao, People's Republic of China
(5)
Geocoastal Research Group, School of Geosciences F09, The University of Sydney, Sydney, Australia
(6)
Faculty of Marine Science, University of Vigo, Vigo, Spain
(7)
Sydney Institute of Marine Science, World Harbour Project Coordinator, Sydney, Australia
(8)
Research Centre School of Marine Science and Engineering, Plymouth University, Plymouth, UK
(9)
School of Geography, Earth and Environmental Sciences, Plymouth University, Plymouth, UK
(10)
Research Centre School of Marine Science and Engineering, Plymouth University, Plymouth, United Kingdom
(11)
Institute of Natural and Mathematical Sciences Albany Campus, Massey University, Auckland, New Zealand
(12)
Sydney Institute of Marine Science, World Harbour Project Leader, Sydney, Australia
(13)
Institute of Marine Biology, Biotechnology and Aquaculture, Hellenic Centre for Marine Research, Crete, Greece