Institutional challenges for effective governance of consumptive wildlife tourism: case studies of marine angling tourism in Iceland and Norway
Received: 14 July 2014
Accepted: 6 February 2015
Published: 8 April 2015
Abstract
Good governance of consumptive wildlife tourism, a complex socio-ecological system, requires finding the right balance between natural resource and tourism management. Fishing takes the lead globally as the most popular product offering within consumptive wildlife tourism, and both Iceland and Norway offer a marine angling tourism product. The two countries offer similar pristine Arctic fjord topography and similar fish species; but the management strategies are very different. Iceland's management strategy for marine angling tourism prioritizes ecosystem-based management of the fish as a living resource, and requires a full accounting of all statistics related to marine angling tourists' activities. Norway's strategy relies on estimates of key statistics such as total seasonal catch, and the regulations put the burden of accountability primarily on the tourists. Using data from a multiple case study analysis of marine angling tourism in Iceland and Norway, the differences in governance inter-dynamics are examined using a theoretical model developed to analyse a complex socio-ecological system as an institution. This paper analyses how the differing management strategies influence institutional function, conflict creation and mitigation. Special focus is placed on the impacts of non-compliance by the tourists. This study demonstrates how such a model can serve as a tool to perform an analysis of a socio-ecological system in order to better understand institutional inter-dynamics, thereby assisting in the creation of a more effective governance strategy.
Keywords
Marine angling tourismConsumptive wildlife tourismSustainable tourism managementCommon pool resourcesInstitutional pillarsInteractive fisheries governanceSocio-ecological systemNatural resource managementIcelandNorway
Introduction
Consumptive wildlife tourism is a specialized niche sector of tourism (Lovelock 2008) which has the potential to create institutional conflicts, especially with regard to natural resource management. Fishing takes the lead globally (Bauer and Herr 2004) as the most popular product offering within this tourism niche. Remote coastal communities in Iceland and Norway serve as host destinations for marine angling tourism (MAT)a, a popular and expanding form of consumptive wildlife tourism in the Arctic fjords. These small communities have relied on the fish in the fjords for hundreds of years as part of a long-standing sea fishing tradition. With the rise in MAT, the locals must now share "their" fish with foreign tourists, potentially creating scenarios for tourism-related conflicts (Arlinghaus 2005; Yang et al. 2013; Butler 1974; Robinson 1999; Budowski 1976). Conflict, in this context, is defined as a serious incompatibility between two or more opinions, principles, or interestsb — referring here only to sources of conflict behaviour (e.g. divergence of interests or values), not the conflict behaviour itself (e.g. acts of violence) (Pruitt 1998). Conflict can have a positive social function and is not necessarily an indicator of dysfunctionality from a governance perspective. A certain degree of conflict is an essential element in group dynamics and group formation, and is considered a learning and growth opportunity for institutions (Coser 1956), but this is in part dependent upon how the institution adapts to resolve or mitigate emergent conflicts.
Sustainable tourism scholars have identified that reconciling the conflicts, and finding balance between the socio-economic benefits of tourism development and sustainable use of natural resources are necessary pre-requisites for sustainable tourism development (Briassoulis and van der Straaten 1992; Farrell and Twining-Ward 2004; Gössling 2002; Hall 2001; Briassoulis 2002; McKercher 1993; Robinson 1999). However, natural resource management policies related to tourism development are often made outside the tourism domain (Bramwell 2011; Hall 2008), for example within fisheries management. Attempting to govern tourism development without consideration of the living resources being consumed; or governing the living resources without consideration of how tourism development is affected, are both missing a critical component in the overall analysis of sustainability.
Fish species common to both Northern Norway and the Western Fjords of Iceland are cod (Gadus morhua); Atlantic halibut (Hippoglossus hippoglossus); wolffish (Anarhichas spp); anglerfish (Lophius piscatorius); and haddock (Melanogrammus aeglefinus). Saithe (Pollachius virens), redfish (Sebastes spp.), and tusk (cusk) (Brosme brosme) are part of the fishing experience in Northern Norway but are not typically found in the Western Fjords. In the commercial scale fisheries, Iceland and Norway are ranked similarly with regard to management. In a study by Pitcher et al. (Pitcher et al. 2009; Pitcher et al. 2006; Ward et al. 2002) to evaluate progress in implementing ecosystem-based management (EBM) of commercial fisheries in 33 countries (in connection with evaluation of global compliance with the UN Code of Conduct for Responsible Fisheries), Norway was listed among the top six countries evaluated on the top five principles for EBM; and Iceland listed among the top nine. Norway and Iceland were listed among the top four for the six indicators developed to evaluate successful EBM.
A significant difference is found with regard to how MAT is managed. The marine angling tourist businesses in Iceland must adhere to regulations written for the commercial fleet. All fish the tourists catch must be delivered to the fish factory and weighed in against the quota regularly purchased for the boats used in MAT. Catch and release is forbidden by law so unknown catch and release mortality is not an issue. As a result, Iceland has full control on all the statistics related to MAT. Further, Iceland offers no facilities for tourists to fillet and freeze the fish they catch, eliminating fish waste from this activity also. This tourist product was offered in 2006, and the resulting waste led to the conclusion that filleting/freezing would not be part of the tourist experience in Iceland (Solstrand 2013; Solstrand and Gressnes 2014; Solstrand 2014). Norway, in effect, does not have a definitive management strategy for MAT, and must rely on scientific studies that attempt to estimate total seasonal catch. There is no official registry for MAT businesses and/or the number of boats in use, no monitoring of how many marine angling tourists are fishing each season, or the mortality from catch and release fishing. As a result, a "black hole" of knowledge exists with regard to MAT statistics, introducing significant doubt as to whether the fjord stocks are being managed sustainably or not. In addition, each resident north from 62°N is allowed to land up to two tonnes of cod per calendar year under the category of recreational fisheries. South of 62°N, the total allowable catch of cod for recreational fishers is one tonne. Total catch by recreational fishers is also unmonitoredc.
The following example illustrates one of the ways the differences in natural resource management affects tourism management. World-record sized halibuts caught using only a rod and reel have been caught by marine angling tourists in Northern Norway in years 2009 (210 kg or 463 lbs) and 2011 (245 kg or 540 lbs — beating the world record set in Iceland in 2010 by 25 kg), but halibuts up to 175 kg are caught regularly each fishing season. Photos of these enormous fish are used in marketing Iceland and Norway as MAT destinations, tempting sport fishers with the fishing experience of a lifetime. Although Atlantic halibut is the most sought after trophy, it is listed as endangered on the IUCN 2013 red listd. As a result of Iceland's control on stock statistics, a fishing ban was enacted for Atlantic halibut December 2011 due to stock decline. If a halibut is caught and remains viable, it must be released. This is the one exception to Iceland's law prohibiting catch and release. A halibut ban can seriously impact tourism interests, so controlling the stock such that these bans are not necessary is preferable for sustainable tourism development.
Following the presentation of methodology, a new interdisciplinary theoretical model is introduced to analyse institutional function of an SES. This model was developed using, as background, Scott's institutional theory (1995, 2008, 2014)e, and modifications of Scott's theory of institutions for fisheries management following Jentoft (2004) and Johnsen and Eliasen (2011). In the results section, empirical natural resources data reflecting the differing management strategies from Iceland and Norway are presented. Using the theoretical model as a tool, and the empirical data on total seasonal catch, the discussion section presents a detailed institutional analysis to answer the following research question: From an institutional perspective, how is governance influenced by institutional structure, conditions, and inter-dynamics? This article builds upon Berkes' (2010) call for a reconceptualization of 'natural resources' and 'management' — and demonstrates how such an analysis can be utilized to meet the challenges faced in governing complex SESs such as consumptive wildlife tourism, where resource use and conservation come into conflict with tourism development.
Methodology
For this article, qualitative data was collected from multiple sources, effectuating cross-validation, and enabling a more comprehensive, holistic analysis of MAT (Denzin 1978; Jick 1979; Yin 2009, p. 114; Decrop 1999; Denzin and Lincoln 1994). The collection of qualitative data followed Yin's six sources of evidence (Yin 2009, p. 101–112), i.e. detailed direct field observations; open-ended focused interviews with stakeholders at several operational levels (tourists, camp owners/daily leaders, commercial fishers, and government officials - in total 86 interviews); participant observations (where the author participated as a marine angling tourist); collection and analysis of formal documentation such as newspaper and web-based articles at the community and national levels, reports and email correspondence; archival data including government laws, regulations, statistics and maps; and photography. A detailed description of these six sources of evidence is found in Solstrand (2013).
Theoretical framework
The theoretical framework begins with MAT as a complex socio-ecological system (SES) (Berkes et al. 2003; Berkes and Folke 1998; Ostrom 2009; Solstrand 2013; Solstrand 2014; Solstrand and Gressnes 2014; Berkes 2011). SESs can be defined as integrated complex systems, consisting of nested social (human) and ecological (biophysical) subsystems, integrated by two-way feedbacks through institutions of governance. Human-ecosystem interactions are a primary and highly complex component of MAT, coupled, and co-evolutionary (Berkes 2011; Berkes and Folke 1998; Berkes 2010). The interdependent living resource management and tourism management dynamics are multi-sectoral, with adaptations to change occurring along unpredictable pathways (Berkes 2010; Levin 2006; Berkes et al. 2003).
MAT as an institution can be seen as nested within the overarching institution of CPRs (Ostrom 1990; McCay and Acheson (1987); Jentoft 2004; Scott 2014). Ostrom's research on governance within common pool resource (CPR) institutions identifies conflict resolution as one of the critical institutional design principles for long-enduring CPR institutions (Ostrom 1990, p. 90), in support of conflict research within tourism. Research in fisheries governance has similarly shown that resolving and mitigating conflicts between resource use and conservation efforts requires the creation of an effective, adaptive interactive governance strategy, in order to find balance between these two competing interests (Pascual-Fernandez et al. 2005; Jentoft et al. 2010).
Institutions are linked to each other and form networks that are themselves institutions. None are self-sufficient, in that their viability is dependent upon the type of relations established within the larger systems of which they are a part; therefore institutions must be analysed as "semi-open" systems that receive input from external sources, e.g. from other institutions (Pascual-Fernandez et al. 2005; Scott and Davis 2014). Institutions cannot remain static, isolated, or ignorant of change. Mechanisms must be in place for institutions to remain flexible and learn (Jentoft et al. 2010), especially with regard to emergent conflicts, with the implicit understanding that change is inevitable, and that adaptation is necessary for maintaining balance.
A modified version of Scott's institutional theoretical construct of three pillars of institutional order: regulative, normative and cultural-cognitive, form the underlying theoretical basis for creation of a model used in this article (Figure
3
). Jentoft (
2004
) applies Scott's three institutional pillars to fisheries governance, arguing that the institutional framework for fisheries management must capture the intricacies of social and cultural processes of change that are essential to making fisheries more sustainable. In Jentoft's argument, the cultural aspect is not only assigned to the cognitive pillar of the institution, but is a crucial component of both the normative and cognitive elements (Figure
3
B). Jentoft stresses that communities play an essential role — both in fisheries management, and as hosts for tourists — and that the community must therefore be taken into consideration as a key stakeholder. Jentoft asserts that institutions for governance in fisheries must be constructed to allow for institutional learning, and must work from the bottom up as well as from the top down. Co-management that includes communities must be part of the institutional design, adhering to democratic principles of accountability and transparency, with sensitivity, which permits response to all affected interests (Jentoft
2000
, Jentoft
2011
; Jentoft et al.
2010
; Jentoft
2004
; Jentoft and Mikalsen
2014
).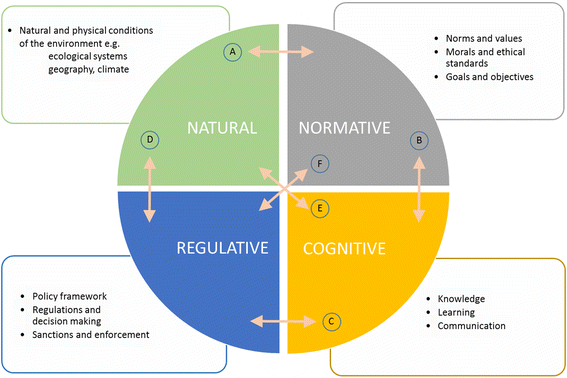 Johnsen and Eliasen (2011) examine the discard problem in fisheries management, adding a fourth institutional pillar titled the 'natural' pillar. Discards are the portions of fish catches that are thrown back into the sea. Discarding is a problem when the organisms returned to the sea are dead or mortally wounded, and represents biomass removal not taken into account in stock estimates (Johnsen and Eliasen 2011). The natural conditions as a fourth pillar is consistent with emerging research in fisheries, and the recognition that the social and ecological aspects of the management of fisheries can be considered as an integrated socio-ecological system (SES) (Berkes 2010, 2011; Ommer et al. 2011). The natural pillar holds the conditions of the natural environment — the biology, ecology, geology, geography and ecosystem functioning within the natural environment (Johnsen and Eliasen 2011) – which is part of the institution – not separate from it. The regulative pillar is influenced by the natural and physical conditions of the environment (Figure 3D) with rule-setting and monitoring designed for protection and sustainability. Non-compliance acts as a stressor to the system. If regulations and sanctions are not effective to control non-compliance, this will impact the sustainability under the natural pillar and will challenge regulative legitimacy under the normative pillar (Figure 3A, D, F). Non-compliance has the power to seriously unbalance the entire system. It cannot necessarily be eliminated from the institutional system, but can be mitigated depending on how the institution responds.
The normative pillar holds the evaluative and obligatory dimension of social life (Scott 2014). This pillar holds the norms, values, ethics, and morals — guided by the unwritten rules and understandings shared by society members (Briassoulis 2002; Folke 2007; Levin 2006; McCay and Acheson (1987); Ostrom 1990; Ostrom et al. 1999). Cultural underpinnings are applied under the normative pillar, consistent with the argument by Jentoft (2004) that norms specify how things should be done (e.g. the measure of appropriateness), according to the cultural framework of the society, providing legitimacy for how values are applied. Values in this context are held values, not assigned values (such as economic worth), and refer to the expressed relative importance or worth of an object to an individual or group in a given context (Brown 1984, p. 233). Through the normative pillar, the goals and objectives of the system are defined, as well as the expected roles that actors should play stemming from the shared cultural understanding. As a result, there is societal agreement and pressure to conform to the rules. Compliance here means behaviour of the individual reflects the norms and values held by the society, not self-interests. Therefore, within the society, non-compliance results in social judgement, shame, or disgrace (Scott 2014). However, this does not apply to the tourists who sit outside this cultural context.
Cognition, by definitionf, is the mental action or process of acquiring knowledge and understanding through, for example, thought, and experiences. Within the cognitive pillar rests the deeper cultural understanding (through knowledge and learning), forming the foundation upon which the regulations and norms rest (Figure B, C). New knowledge is generated, e.g. scientific studies to understand biology, and ecology. Regulations are created, driven by society's "of course this is the way we do things" understanding. Legitimacy is measured essentially by what makes sense. However, in the case of tourism – tourists are not a part of this shared cultural understanding of what makes sense. What makes sense to the tourists has more to do with maximizing the tourist experience. They participate within, and influence the institution of MAT, but actually sit outside the normative and cognitive pillars.
Change is a given, and an institution is a dynamic system that is continually subject to stressors as a result of change. Forces (including conflicts), act from within and external to the system. The system must be flexible enough to adapt in order to minimize disruption from such stressors (Kooiman et al. 2005; Ostrom 1990; Scott 2014). In a stable system, no one single pillar functions alone, nor does any single pillar dominate. When the system is in balance, the capacity to adapt is high, and the chances for sustainability are far greater. When the system moves out of balance, it means that stressors are exerting force on one or more pillars, and that adaptation to re-establish balance becomes necessary (Strange and Sine 2002).
Monitoring the fish as a resource – empirical examples from Iceland and Norway
The following is a presentation of empirical data resulting from the differences in the management of MAT in Iceland and Norway. Applying the theoretical model, the Discussion section will discuss how this empirical data affects institutional functioning and sustainability.
Iceland
Known statistics in the Iceland system are used to calculate a figure that can be used to evaluate Norwegian estimates. In Table
1
, the average kg/boat/day is calculated for MAT in Iceland, by starting with published figures for total seasonal catch (in tonnes), the number of boats, and using a realistic low and optimistic high for the number of fishing days (calculations moving from right to left). Total seasonal catch (kg) ÷ fishing days ÷ boats = kg/boat/day. Over a four-year period, the total seasonal catch has been fairly consistent with a calculated average daily catch of 48–61 kg/boat/day (Table
1
). Such a statistic remains independent of the number of marine angling tourists doing the fishing - a figure that is not available in Norway.
Table 1
The average kg/boat/day is calculated from known statistics in Iceland: the total seasonal catch and the number of boats, for years 2010-2013
← calculations move from right to left

Season

Average kg/boat/day (a)

Number of boats

Number of fishing days (low/high)

Total seasonal catch (tonnes)

Iceland

2010

53 to 66 kg/boat/day

47(b)

80/100(a)

247(b)

2011

48 to 60 kg/boat/day

48(c)

80/100(a)

232(c)

2012

49 to 62 kg/boat/day

49(d)

80/100(a)

242(d)

2013

43 to 55 kg/boat/day

48(e)

79/100(f)

207(e)

Average

48 to 61 kg/boat/day

48

232
Norway
"At present, there are no precise and unbiased annual statistics available for total recreational fishing effort along the coast of Norway or on how much and which species are caught… Hence, there is a need for more and better information on the coastal zone to mitigate conflicts among stakeholders and to ensure sustainable fisheries" (Vølstad et al. (2011b), p. 1786).
To compensate for the lack of official statistics, three major studies have been conducted over a ten-year period in an attempt to estimate total seasonal catch for MAT in Norway (Table
2
). These studies have produced widely differing results depending on how the question was approached, and how the calculations were done. Although field data for the current project shows that MAT is increasing in Northern Norway, the estimates for how much fish is actually being harvested have decreased significantly with each successive estimate of total seasonal catch. The only number one can claim to know with any certainty might be the number of boats. Based on Vølstad et al. (
2011b
), the total number of boats used for MAT is calculated to be 2,393 for all of Norway in 2009; and Borch et al.'s (
2011
) figure of 907 boats is used for Northern Norway as of 2009. Vølstad et al. (
2011b
) use a figure of 445 official marine fish tourism businesses in Norway as of 2009, while the study by Hallenstvedt and Wulff (
2001
) estimates that 939 businesses were in operation in 2001. The estimates of total seasonal catch from these three reports are compared in Table
2
.
Table 2
Seasonal catch estimates from MAT in Norway - studies done over a ten-year period
Year

Authors (Date of report) Institutions

Estimated seasonal catch

All of Norway

Northern Norway

2001

Hallenstvedt and Wulff (2001)

13,400 tonnes with a range of 12,000-15,000 tonnes per year(a)

~10,000 boats 939 businesses

Norwegian College of Fishery Science, University of Tromsø

2003

Cap & Ernst (2003) Int'l consulting firm (now known as Capgemini Consulting)

6,000-9,000 tonnes per year

2011

Vølstad et al. (2011b); Vølstad et al. (2011a) - Institute of Marine Research under Ministry of Fisheries and Coastal Affairs, Bergen

3,335 tonnes per year(b)

2,393 boats 445 businesses

907 boats(c)
Catch-and-release, as a fishing practice, has significant bearing on fish stock management from a biological, ecological, and socio-cultural perspective (see for ex. Arlinghaus 2007; Ferter et al. 2013; Ferter et al. 2015; Arlinghaus et al. 2007). Implementation of best practice release guidelines are recommended in order to minimize the negative impacts of C&R (Ferter et al. 2015). No reliable estimates for catch-and-release mortality are available for MAT activities in Norway. With the estimate of 3,335 tonnes as a total seasonal catch for all of Norway (which does not include catch and release mortality), Vølstad et al. (2011b); Vølstad et al. (2011a) conclude that the tourist catch of coastal cod is insignificant in comparison to commercial scale and recreational fishing by Norwegian residents. Many government statistics controlling commercial-scale fisheries management in Norway distinguish between areas north and south of 62°N. The overall sizes of the fish and composition of species caught in Northern Norway increases the kg/boat/day statistic substantially, in comparison to southern Norway, which also has bearing on attempting to find an estimate for the entire country.
Estimates of total seasonal catch listed in Table
2
are vastly different. Using these estimates from Table
2
, with the known data from Iceland presented in Table
1
for comparison, Table
3
presents another way to estimate total seasonal catch in Norway. Working the calculations from left to right in Table
3
, the starting point is the average kg/boat/day found in Table
1
. Further, the figures used for the number of boats for MAT are only estimates. With an increase in the number of boats, the figure for total seasonal catch rises significantly. These estimates of total seasonal catch would be in addition to tourist fishing activities occurring along the coastline outside of fishing camps, unknown landings from illegal fish smuggling activities, and the recreational fishing activities by Norwegian citizens. These activities, which collectively represent a significant number of additional boats also involved in the extraction of fish resources, are also unmonitored and have no estimates.
Table 3
Total estimated seasonal catch in Norway calculated by using a range of figures for kg/boat/day taken from Table 1
Estimate of seasonal catch

All of Norway (tonnes) (a)

Northern Norway (tonnes) (b)

Fishing days

Fishing days

calculations →

low(c)

high(d)

low(c)

high(d)

61 kg/boat/day(e)

22 334

31 092

8 465

11 785

48 kg/boat/day(e)

17 574

24 466

6 661

9 273

30 kg/boat/day

10 984

15 291

4 163

5 796

20 kg/boat/day

7 323

10 194

2 775

3 864

10 kg/boat/day

3 661

5 097

1 388

1 932

8 kg/boat/day

2 929

4 078

1 110

1 546
The direct field observations and interview data in Northern Norway in 2009 and 2010 documented that marine angling tourists (average of four per boat) were typically landing a full box of fish after a day on the sea - with an average estimated weight of between 50 to 70 kg. Direct field observations also confirmed that camps were fully booked throughout the season, and all boats were in use. Average-sized cod are approximately 5–15 kg, and the tourists were typically coming in with over six cod (>30 kg), one to four wolfish (3–7 kg each avg.), a few saith (2–4 kg each) and haddock (2–3 kg each)g and/or redfish. If a halibut was in the box, the total number of kilos rose considerably, as just one 1.5 meter halibut is approximately 50 kg. It was very seldom fishers were coming into camp with no fish. If it was just the fish for dinner they were landing, then it was still up from 20 kg (e.g. 3–4 average sized cod) to feed the group (on average 25% of the fish is fillet). Using Table 3 as a reference, Vølstad et al.'s estimate would place between 8–10 kg/boat/day for all of Norway (3,335 tonnes annually) and a little over 10 kg/boat/day for Northern Norway (2,298 tonnes annually).
Conclusions
Using marine angling tourism (MAT) in Iceland and Norway as case study examples within the niche sector of consumptive wildlife tourism, this article has demonstrated how the governance of MAT is influenced by institutional structure, conditions, and inter-dynamics. Iceland's Fisheries Management Act and Norway's Marine Resources Act are rooted in the same socio-cultural values that respect and honour the fish as a common pool resource, the marine fishing heritage, and protection of the wild marine living resources for future generations. However, the two countries have developed very different strategies for realising this protection with regard to MAT.
A theoretical model was created to break down the individual elements in the institutional structure, in order to highlight more clearly the inter-connectedness of the four institutional pillars. Such an analysis has demonstrated how labyrinthine the relationship is between the social and ecological dimensions of a complex SES such as consumptive wildlife tourism. Using empirical data on the total seasonal catch, the natural pillar has been shown to play a significant role within the institutional structure, and as such cannot be managed separately from the rest of the institution, or considered separately from the other institutional pillars. The findings from this article reinforce the argument by Berkes that a reconceptualization of natural resource management is needed (Berkes 2010). The institutional analysis presented provides support for the modification of traditional approaches to the management of marine SESs – namely: 1) how to develop complex adaptive systems approaches to deal with SESs for a contextualized understanding of the drivers of change, from local to global levels; and 2) how knowledge production, adaptive management, and social learning for the governance of marine ecosystems can and should work in practice (Berkes 2011).
Consumptive wildlife tourism creates a highly complex, intertwined relationship with the wild living marine resources and host communities. It cannot exist in a bubble of its own design, but affects and is affected by the institutions it sits within — on the regional, national, and international levels. All resource users as stakeholders (Solstrand 2014) share in the right to extract fish as a common pool resource; therefore responsibility and accountability must also be shared by all resource users. A better understanding of these complex institutional inter-dynamics assists in the creation of a more effective governance strategy – critical for the long-term sustainability of both the SES as an institution and the vulnerable fish stocks.
Abbreviations
CPR:

Common pool resource(s)
EBM:

Ecosystem-based management
ITQ:

Individual transferable quota
MAT:

Marine angling tourism
NRM:

Natural resource management
SES:

Socio-ecological system(s)
TAC:

Total allowable catch
Declarations
Acknowledgements
This research was supported by a grant from SpareBank Gavefond Nord-Norge, a gift fund from one of Northern Norway's leading banks. Fieldwork in Iceland was supported by a grant for PhD study abroad through the Faculty of Biosciences, Fisheries and Economics. Sincere gratitude is extended to Professor Jahn Petter Johnsen, and Professor Svein Jentoft - Norwegian College of Fishery Science, UiT - The Arctic University of Norway, for their contributions to earlier drafts of this article.
Authors' Affiliations
(1)
Norwegian College of Fishery Science, Faculty of Biosciences, Fisheries and Economics, UiT The Arctic University of Norway, Tromsø, Norway
Copyright
© Solstrand; licensee Springer. 2015
This is an Open Access article distributed under the terms of the Creative Commons Attribution License (http://creativecommons.org/licenses/by/4.0), which permits unrestricted use, distribution, and reproduction in any medium, provided the original work is properly credited.