The creation of coastal space – how local ecological knowledge becomes relevant
Received: 22 April 2013
Accepted: 5 October 2013
Published: 6 February 2014
Abstract
Since the 1990s, substantial efforts have been invested in Local Ecological Knowledge (LEK) research, but LEK has only been applied in western fisheries and resource management to a limited extent. The attempts to link LEK to model-based fish stock assessment seem to have failed largely because the format of LEK does not fit into the models currently in use. However, LEK is still relevant for natural resource management. This article approaches LEK from a different position, not as knowledge about fish stocks but as a constituent in the creation of coastal space as a management object. Through the description of procedures and practices for collection, mapping and authorisation of LEK in Norway, the article illustrates how LEK can potentially become a central element in fisheries and coastal management by using the construction of coastal space as a core management object. As the article will show, the translation of users' experiences into formal knowledge (LEK) about specific activities in certain localities imbues the coastal space with formerly unknown properties and contributes to turning it into a more complex management object. Thus, the article illustrates that LEK becomes relevant for management when it is presented in a format that fits into the frames of reference used in coastal zone management.
Keywords
Local ecological knowledge
Fishers' knowledge
Multiple objects
Coastal space
Local knowledge – knowledge about what?
Our story starts during the winter fishery for North East Arctic cod (
Gadus morhua
)
a
on a fishing ground outside Senja in Northern Norway in 2011 (Figure
1
, Area 1), on board a 15 meter long gillnetter with two men fishing on this particular fishing ground for their first time. During participant observation, we could observe and experience how they struggled to learn how to fish in a new area. When a string of nets was hauled, as a newcomer to the ground, the skipper had to decide whether to set again in the same position or start looking for a new place to deploy the gear. Based on the size of the catch, information he had obtained from the old-timers on shore, advice from other skippers fishing in the same area and his own interpretation of the relationship between an unfamiliar bottom, unfamiliar currents and fish behaviour, this was like trial fishing, and he had to discuss with his crew before he made a final decision. The skipper had more than 30 years of fishing experience from the fishing grounds around the Lofoten Islands, where he actually knew the waters intimately (Figure
1
, Area 2). In 2007 and 2009, we conducted fieldwork on board this vessel when the skipper fished in familiar waters. Here, when a string was hauled, he made some short phone calls to other boats and then made a rather quick decision about where to set, and you could be sure that he would obtain a decent catch
b
. Based on information about fish prices and contacts with different processing plants, in 2011, he decided to try a new area outside Senja about 180 nautical miles to the Northeast (Figure
1
, Area 1). This was a fishing ground entirely unknown to him. In 2011 we followed him to the new fishing ground and we also spent a couple of days on board with him in 2013. On this new fishing ground, the situation was quite different. In 2011, we soon realised that we could actually catch nothing, even if the boats next to us hauled nets full of fish. Second, and quite different from the situation in Lofoten, the fishers did not sound for the fish, but used the echo sounder to find the right seabed profile. In Lofoten, they set when they find fish on the echo sounder, while outside Senja the fishers set on experience based on where the fish usually come
c
. If you are on the right spot, you will catch fish when they come, if you are on the wrong spot you may catch nothing.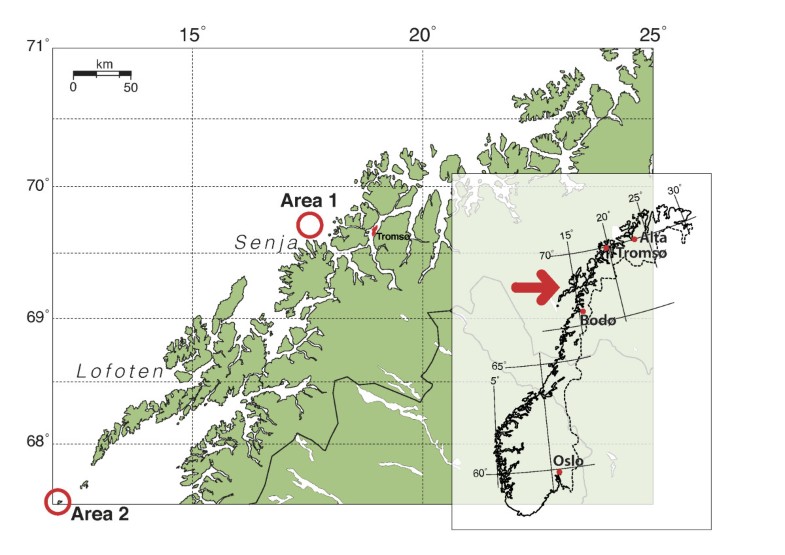 The skipper's practical behaviour was different in the two areas and resulted in different outcomes. These differences illustrate the relationship between resource harvesters and the environment they live in, that is, between fishers, the area they fish in and the fish behaviour in that particular area. This relationship, known as Local Ecological Knowledge (LEK) or Fishers' Ecological Knowledge (FEK), is well described by a number of scientists (Berkes 2007; Davis and Wagner 2003; Maurstad 2000; McGoodwin 1990; Murray et al. 2006; Neis et al. 1999).
This LEK/FEK is based on individual and common experiences and perceptions of relationships between biotic components, like fish and plankton, and abiotic components like currents, wind, temperatures and the area they operate in. All together, these elements form a body of practical knowledge about certain ecological relationships. Our perspective differs from Berkes's (2007) holistic approach, as we do not see this knowledge (LEK/FEK) as total or holistic knowledge about a particular or bounded ecosystem but rather as practical experience derived from particular relationships in a certain environment (Aswani 2011; Valdés-Pizzini and García-Quijano 2009), often formulated and presented on the backdrop of or in relation to modern science that to some extent has provided the users with their language and their concepts for talking about their experiences. Thus, LEK/FEK research can be seen as a process of coding, standardising and refining LEK/FEK into a scientifically refined fishing knowledge or, what Holm (2003) called FEK* (Davis and Wagner 2003; Murray et al. 2008)d.
The interest in LEK grew out of the hardships that fisher folks around the world felt in the wake of development of western fisheries governance systems. LEK research raised an extensive international debate about the relevance and use of local fishing knowledge in fisheries governance in the 1980s (McGoodwin 1990). Throughout the 1970s and 1980s it became clear that the modern (Western) fisheries overexploited the resources and that governance had largely failed (Holm and Nielsen 2007). In particular, the collapse of the cod fishery in Canada at the beginning of the 1990s contributed to scepticism toward scientific fisheries governance based on historical catch statistics and numerical models. It was claimed that these resource crises were also the result of a knowledge crisis (Finlayson 1994), which in turn contributed to a resurgence of research associated with LEK (Berkes 2007; Degnbol 2003; Garcia and Charles 2007; Holm 2003; Holm and Nielsen 2007; Johannes et al. 2000; Neis and Felt 2000). In Norway, Maurstad and Sundet (1998) did some ground-breaking work when they, on the basis of interviews with fishers, indicated that fishers had very precise knowledge about local cod stocks. However, despite the documentation of LEK and the attempts to use it (Bjørkan 2011), applying LEK in modern fisheries governance has "remained hypothetical" for a long time (Davis and Wagner 2003:475). Second, as Holm (2003) points out, the reason why LEK is not used more can also be related to how LEK is translated and transformed from practical knowledge into scientific knowledge. This is what Holm calls FEK*, the selected and refined information that can be relevant for modern fisheries science, produced and translated through specific procedures. According to Holm (2003), LEK research has partially established that fishers are accepted as holders of knowledge fragments that, under certain conditions, can be relevant for fisheries science. At least in a North Atlantic context, with a strong institutionalised system for fisheries science and advice for single stock management, LEK research has been about sorting and dis-embedding the fisher's knowledge from the local practical and cultural context and to re-embed this knowledge into fisheries science. So far, as several projects have illustrated (Maurstad and Sundet 1998; Murray et al. 2008), this dis-embedding is quite well established as scientific practice, whereas the re-embedding of even the relevant FEK* has proved to be difficult, as Bjørkan (2011) has demonstrated. The problem may be related both to scale, to the institutionalised model for stock assessment and advice and to the governance object. Finally, the managers' perspective on the relationship between science and governance will also be of importance. If fisheries governance relies entirely upon authorised scientific knowledge, LEK will not meet the standards, not even in the form of FEK* (Valdés-Pizzini and García-Quijano 2009; Valdés-Pizzini et al. 2012; Thornton and Scheer 2012). According to this view, application of LEK implies a need for an institutional reform or a different approach to what kind of object we attempt to govern.
Due to the fact that interest in LEK grew out of resource crises, the attempts to apply LEK have been directed toward single fish stock assessment and management. LEK has been seen as knowledge that would expand the possibilities for better stock assessment, clarify stock structures and result in a more targeted management (Maurstad 2000; Maurstad and Sundet 1998; Neis and Felt 2000). Taking into consideration that the North Atlantic fish stock management is model-based and requires a specific data format (Bjørkan 2011; Murray et al. 2008), this ambition has been rather unrealistic. However, despite this problem, our argument is not that LEK research has been wrong or misplaced, but that the attempts to apply LEK may have been directed toward the wrong governance object. From our point of view, and as others have pointed out, LEK is not about providing a better empirical basis for theoretical fish stock modelling but about a quite different governance object, namely coastal space (Valdés-Pizzini and García-Quijano 2009).
Through a description of what comprises LEK in the Norwegian context, the present article illustrates how LEK contributes to the creation of marine space as a governable object. Our focus is on the authorised procedures for collection and stabilisation of LEK. The article outlines how LEK is stabilised as knowledge and applied in coastal planning and ends with a discussion of some of the consequences of this application. The article is an illustration of how the concept of an ecosystem-based approach to coastal governance is constructed and filled with meanings and properties. In this article, we will show how LEK becomes a relevant element in coastal governance. Next, the article will also illustrate the thresholds that LEK supporters will have to transgress in order to make LEK accountable. Finally, as Degnbol (2003) demonstrated, it will become apparent that LEK is knowledge about conditions and resources in specific areas and cannot be seen as knowledge about the scientifically modelled and constructed fish stocks that are used in fish stock assessment and fishing quota management.
We start out with a presentation of our theoretical perspective on objects and knowledge. After a brief presentation of our methodological approach, we turn to a description of the three phases of constituting objects and knowledge. Next we present the outcomes of the process, in particular in the form of maps, and point to the importance of mapping when building objects and knowledge. Finally, in the concluding section, we discuss the implications of our findings for fishers, managers and future LEK research.
The constitution of coastal space through mapping
In their description of the attempts to make fisheries governance possible, Johnsen et al. (2009a) used an actor-network theory (ANT) approach to describe how fish becomes a manageable object through scientific and administrative practices. These practices create "fish" as an object of knowledge that can be calculated, modelled and simulated for governance purposes. As the actor-network term implies, ANT is not about individuals but about action that takes place through relationships or networks. The ANT approach is useful for exploring how specific objects are created or stabilised through a wide range of practices and actions that take place in relationships. In ANT, knowledge is always seen as being about an object, and these objects do not exist independently of each other. This implies that, when talk and experiences from fishing through a specific procedure can be transformed into LEK, a specific knowledge object is created in this process. Callon (1986) described the process we refer to as the process of translation. The actual translation is "all the negotiations, power games, statements and actions that an actor or force performs to gain power, authority and legitimacy to speak or act on behalf of others" (Callon and Latour 1981:279). Thus, the translation process is about stabilising the relations that constitute the multiple objects in a way that makes the object(s) durable. Holm (2003) used the concept of translation to describe how FEK is turned into FEK*, the purified, "scientific" version of FEK. The concept of translation in ANT explains how heterogeneous and material objects are woven together to form entireties (Latour 2005) or what Mol (2002) called multiple objects. Consequently, the multiple objects do not have a clear and specific ontology but can be described as a network of relationships between many different types of actors, people, organisations, natural elements, images and ideas, all playing different roles. In her book, The Body Multiple: Ontology in Medical Practice Mol (2002) studied the process of how the multiplicity of the disease atherosclerosis becomes translated and coordinated into a treatable object within the framework of a modern hospital. The process is quite similar to how a governance object can be created and constituted inside a given framework.
Inspired by Mol, we will describe a similar process that uses specific procedures to apply LEK to practical governance. Following Latour (
2005
), we will make an account of the components of LEK and the instruments that are mobilized and deployed to stabilize it as applicable knowledge for governance purposes. The process takes place in three partly overlapping phases: 1) a coordination phase, during which a common language, common categories and concepts are established; 2) a phase during which the roles, responsibilities, indicators, and solutions are defined; and 3) a phase during which the elements from the first two are bound together into objects that are both existing side by side and mutually included in each other, for example, both the space and the properties will exist side by side, but the space will also be defined by the properties, and the properties are defined as spatial. This variety will be coordinated inside a specific framing process that makes it possible to manage the space with the included properties (see Table
1
).
Table 1
Overview of the phases for creation of a management object (after Mol 2002 )
Phase

Actions

Outputs

Coordination and definition of relevant actors and contributors

Data collection methods, coordination, calibration and conceptualisation, definition of the objects

Establishment of a common language, categories, and objects.

Consensus about the object and how it can be categorised (interviews).

Distribution of power and responsibilities

Defining and selecting problems, solutions and indicators, establishing relationships and allocating responsibilities.

Actors with defined roles and responsibilities in relation to the management object, defined space for each player, choice of instruments (maps, quality assurance and validation)

Inclusion, stabilising the network

Knowledge definition and authorization, inclusion of actors, exclusion of non-participants.

The knowledge object is constituted and stabilised through the published maps.

Evaluation and modification of instruments, production of official maps.

Space, spatial properties, spatial representation and practices will exist side by side.

The space contains the properties and the practices, while the properties and practices get a spatial dimension.
A key activity in the translation processes that we describe is the work of the map. Mapping practices and technology represent the coordinating framework for the constitution of coastal space as a governance object. In Latour's (2005) terms, mapping is about the inscription of LEK into a stabilizing device, the geographical map. When various coastal activities are mapped, these activities become firmly anchored to a specific coastal space and lay the basis for defining the space's properties. Mapping produces reality, constructs knowledge and exercises power (Crampton and Krygier 2005). However, the maps of marine areas are not fixed objects. The Norwegian maps of the coastal zone, either in terms of sector bodies' national maps or municipal land use maps are continuously updated with new information and new knowledge is continuously constructed. Whereas the maps initially contained only geographic information and shipping lanes, now information about fishing grounds, spawning areas, fish farms, the flora and fauna, cultural heritage (shipwrecks), proposed marine protected areas, etc., are added. New interests arise constantly, demanding that their activities appear on maps, such as sites for wind turbines in the sea or areas that are suitable for landfill mining.
Consequently, while mapping on the one hand is a stabilising practice, maps are also dynamic, even if they fix some activities and properties of the space at a certain point in a way that makes these properties replicable. Mapping and cartography is no longer a discipline for the elites; it has opened up to people able to handle simple computer programs (Crampton and Krygier 2005). Despite this dynamic, in marine and coastal governance, maps still represent a form of objective knowledge, which is difficult to challenge if other users are not able to present the same type of information or specific piece information in the same form. Smith (2011) and Smith and Brennan (2012) show, with examples from Scotland, how mapping of marine areas is not based on objective knowledge but on indicators developed through judgement. For example, the importance of the various fishing areas is assessed on the basis of fishing efforts taking place in the various blocks that a space is divided into. However, the fleet's location will differ from one year to another, and the map makers must make decisions on whether fishing efforts take place in one block or the other. The selected indicator of fishing effort; kwD (kilowatt × Days) is not a constant. It is influenced by several factors, including wind and weather, boat and engine age, fishing pattern, and the price of fish and fuel. Such flexible indicators appear as objective and fixed when they are used to identify an activity that is inscribed into a map. Therefore, considerable power is related to the ability to produce relevant data and information for the actual mapping exercise.
St. Martin and Hall-Arber (2008) have demonstrated, with reference to fishing off the northeast coast of the United States, how mapping of activity and GIS tools can be used to explore who fishes where and what fishing grounds the various fishing communities are most dependent on. Through a combination of interviews and plots on a map that are later calibrated and assembled into a database and processed into digital maps, they show which fishing grounds are important for different communities. St. Martin and Hall-Arber (ibid) illustrate that the sea consists of more than catch areas and zones; they also map relations between specific fishing grounds and communities on the shore. In addition to their economic importance, these grounds will have meaning and cultural significance in local communities on shore. A similar approach has been used to map and interpret Sami fishing space in northern Norway (Brattland and Nilsen 2011). Thus, in both cases, fishers' use and knowledge become relevant components in the construction of coastal space. Before we follow our Mol-inspired scheme and take a closer look into how fishing knowledge is identified, constituted and applied, we will briefly present the methods we have used.
Method
This article is based on extensive fieldwork, participant observation on board a fishing vessel under the arctic cod fisheries in 2007, 2009, 2011 and 2013 in two different areas, interviews with a number of key stakeholders and a review of public documents. With regard to obtaining insight into the data collection procedures used to collect fishers' knowledge, we have carried out a thorough analysis of the manuals for data collection from the Directorate of Fisheries (DoF) to be able to describe the procedure and the processes (Directorate of Fisheries 2008 2010a, b). In addition, we have used interviews with the data collectors, and, finally, we have also drawn upon experiences from the use of the same type of methodology in studies of the fisheries in Labrador in 2003 (Johnsen et al. 2009b; Murray et al. 2006). Not least, we have tried to trace the mapping process behind the maps published by the DoF and the Institute of Marine Research (IMR).
Endnotes
aCod in this paper refers to Northeast Arctic cod (Gadus morhua).
bThe practices onboard were documented through photographs, field notes and video clips.
cWe prefer to use "fisher" instead of fisherman or fish harvester. Fisher is also a direct translation of the Norwegian word "fisker".
dTo simplify the terminology, in this article we will use the concept Local Ecological Knowledge (LEK).
eThis section is also based on interviews with responsible officers at the Directorate of Fisheries.
fNCFA did not have a local branch in Alta, and the local "Fjord Fishers' Association" and the Sami fishers' organisation, Bivdi, were not yet established.
gOnly four out of around 100 registered fishers in Alta participated in the mapping. Many of the registered fishers fish outside of Alta and do not have the targeted local knowledge.
hSee Figure 1. Kvænangen is the fjord system southwest of Alta in Figure 1. Alta where we have done fieldwork is not yet surveyed by IMR.
iA fishing meid or meith ("med" in Norwegian) is a cross bearing between two or more prominent landmarks that give a quite accurate positioning of the gear. The Shetland Dictionary (Graham 1984 [1979]).
j(http://www.olex.no/index_e.html)
kThe reference fleet is a group of fishing vessels of different sizes that fish with different gear hired by IMR to collect data under their ordinary fishing operations.
lInformation given by himself on SMS, information from the DoF's quota and catch database and interviews during fieldwork in 2013.
Authors' Affiliations
(1)
Norwegian College of Fishery Science, University of Tromsø, The Arctic University of Norway, Tromsø, Norway
Copyright
© Johnsen et al.; licensee Springer. 2014
This article is published under license to BioMed Central Ltd. This is an open access article distributed under the terms of the Creative Commons Attribution License (http://creativecommons.org/licenses/by/2.0), which permits unrestricted use, distribution, and reproduction in any medium, provided the original work is properly cited.